Welcome back to your membership in the premier home education site for families worldwide. Because our Schoolhouse Teacher experts will be sharing content on a daily, weekly, or monthly basis, you'll want to come back every day to see

what's new

.
* * *
New for March and April!: Homesteading, American Sign Language, and Wildlife Adventures: Land and Sea . . . New monthly lessons for Teacher Courses and Dailies in April are now posted!
More new courses in 2014: Statistics, Music Theory/Education, Friendly Chemistry, Exercise/Fitness, Public Speaking, Charlotte Mason-Preschool, and Classical Archaeology. Also, a new three-week mini-course is on the site: Writing: Advertising, which comes with an opportunity to write for SchoolhouseTeachers.com!

Be sure to click on the Schoolhouse Dailies tab regularly and our What's New? page for weekly updates as well!
Here are just some of the Teachers providing you monthly and weekly lessons:

Literature: Adam Andrews uses the Teaching the Classics approach to teaching context, structure, and style within his lessons, including story charts. Month after month, Adam's classes rank among our most popular!
Geography: Tyler and Maggie Hogan have beautiful, brand new lessons on our site! (Also archived on the site are geography lessons and maps from Terri Johnson of Knowledge Quest.)
History: Diana Waring of Diana Waring Presents has a series of history lessons on great Christian missionaries archived on the site. A number of other history-based lessons are here, too, including Classical History with Jennifer Courtney.
Home Economics: Malia Russell of Homemaking911.com provides expert advice and great content for both girls and boys to learn how to manage a home and gain great life skills. This content is saved on our site. Our newest home economics course is provided by Heather Leach; it debuted in November!

Technology: A brand new course from Chris Yust, of www.homeschoolprogramming.com, debuted this fall!
Writing: Kim Kautzer of WriteShop Inc. has complete lessons plans that can be used throughout the month. And every weekday, you can log in under our Dailies tab to get writing prompts and activities from Kim.
In addition, we have a monthly writing course from Janice Campbell of Everyday Education, as well as two archived writing courses from Sharon Watson of www.writingwithsharonwatson.com.
More subjects: Filmmaking (with Advent Film Group cofounder George Escobar), Middle School Math, Economics, Chemistry, Lapbooking, History Cut-Out Figures, and Helps for Struggling Readers. All of this is under the SchoolhouseTeachers and Age/Grade Menu tabs.
Music/Voice: Joy Sikorski, accomplished musician and singer—who homeschooled three children in an Alaskan log cabin—teaches music for the entire family.

There's still more to your membership. Additional benefits include: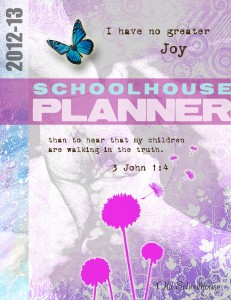 2013-2014 versions of the popular TOS Schoolhouse Planners. There's the 245-page, interactive Primary Planner and these additional planners: for high school student, middle school, elementary, and special needs. You get all five of them for no extra charge (more than $125 in value)!
12 E-Books from the TOS E-Book Homeschool Library—one per month during your first 12 months of membership.
A mixed selection of TOS Thematic Units, WannaBes™, Curiosity Files™, and WeE-books™—twelve to fourteen each month, over the course of a year, for a total of 152 educational resources.
The Old Schoolhouse® Magazine, delivered straight to your inbox.
All The Old Schoolhouse® Magazine digital back issues ever produced—each of them quickly searchable by topic.
All 2012-2013 TOS webinar Expo-to-Go recorded sessions ($60 value) and mp3 audio files are being rolled out this fall. Also, receive recordings of all future and ongoing Expos during the length of your membership—learn the latest trends and information in home education during these popular webinars.
Look around.
Get started.
Enjoy.
Then let us know how we're doing. We'll be excited to hear your comments and suggestions!
Bob Irvin Executive editor, SchoolhouseTeachers.com and SchoolhouseTeachers.com team
Send your comments to: birvin@theoldschoolhouse.com.