Chris Yust
Welcome to Computer Science at SchoolhouseTeachers.com
December 2013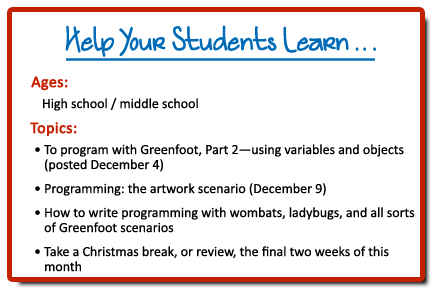 Last month you began learning about the Java programming language and the Greenfoot development environment. This month we are going to continue working with Java and Greenfoot. You will learn some new features of the Java language and enhance the capabilities of your objects in the Greenfoot world.
Please be sure that you have carefully studied each of the three Greenfoot lessons from November and are comfortable with that material before moving forward.
We will have 2 lessons this month and then leave time for the Christmas break. Then in January we'll move on with brand new lessons!
If you have any questions, please contact me at:
chris@HomeschoolProgramming.com.
Regards,
Chris
Theme: Programming Concepts with Greenfoot, Part 2
| | |
| --- | --- |
| Lesson 1 | Using Variables and Objects (posted December 4) |
| Lesson 2 | The Artwork Scenario (posted December 9) |
| Lesson 3 | NONE – CHRISTMAS BREAK, CATCH-UP, OR REVIEW |
| Lesson 4 | NONE – CHRISTMAS BREAK, CATCH-UP, OR REVIEW |

Before You Begin
Please carefully read these student prerequisites before continuing:
• Students must have access to a Windows PC or Mac OS desktop/laptop computer. Many lessons will involve hands-on projects on your computer, and generally speaking, a tablet or smartphone will be insufficient or cramped.
• Material is geared for 6th to 12th grade students in a self-study environment. Teachers do not have to be computer science experts themselves; that's why I am here! Younger students may participate at their discretion; just be prepared as a teacher to offer them additional guidance and assistance as needed.
• Students should already be fundamentally familiar with computers for daily use. We will not be covering computer "literacy" topics such as how to use a mouse, keyboard, or navigating through your operating system.
• We will not be teaching word processing spreadsheets, or presentations, nor are these skills needed for our work!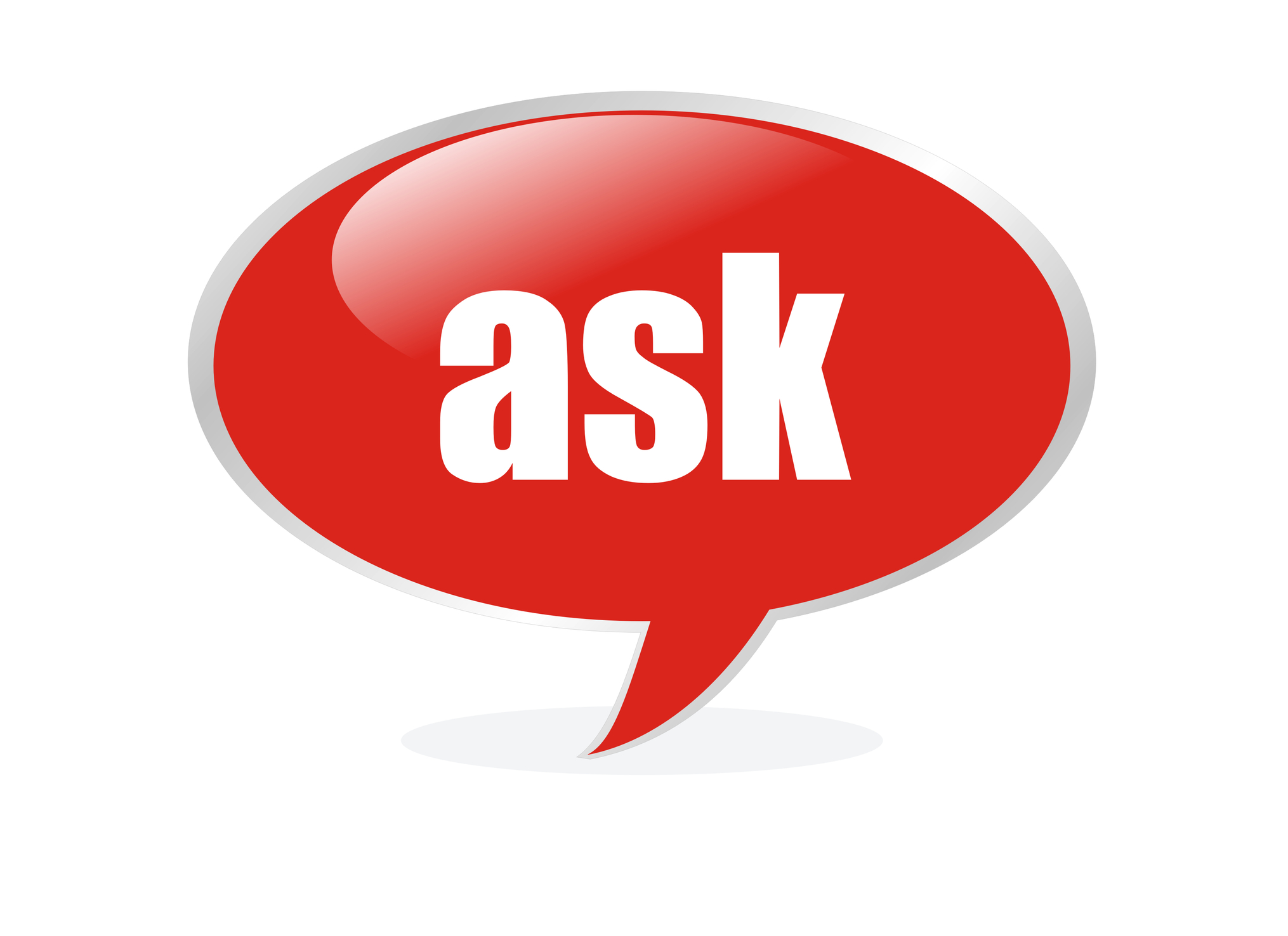 Do you have a question about computer science for Chris? Try our  Ask a Question page.
Check out our monthly schedule on the attached PDF: "Computer Science Monthly Schedule" to see what topics we'll be covering this year! But for a quick look, we'll cover topics like: Basic Website Design with HTML (September), Programming Concepts with Greenfoot, Parts 1 and 2 (November and December), Minecraft Mods for Beginners (January), Exploring Lego Digital Designer (February), and much more. Our course is planned to carry through July 2014.
. .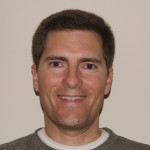 Chris Yust is 15-plus-year software engineering professional and homeschool dad to two boys. After finding little homeschool support available for computer science students, Chris and his wife Andrea created Homeschool Programming, Inc. and have co-written more than six introductory computer programming textbooks for kids and teens. Chris and Andrea are passionate about making technical subjects fun for kids and increasing awareness of computer science as a high-paying, in-demand job in this digital age! Chris has a Master's degree in Electrical Engineering from the University of Florida and lives in the Atlanta, Georgia area.   For more information on self-study curriculum for Java, C#, Visual Basic, HTML  / web design, and Android app development, please visit www.HomeschoolProgramming.com