Evonne Mandella
Welcome to Hands-on Hebrew at SchoolhouseTeachers.com!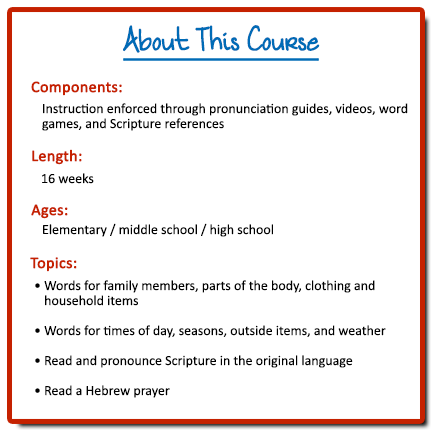 Shalom students!  Have you ever read Scripture and thought it would be wonderful to know how to read it in the original language? Join me as I guide you through basic vocabulary and pronunciation for family members, parts of the body, household items, seasons, weather, times of day, garden-related items, and clothing. As the course progresses and you learn how to read and pronounce Hebrew words, you will have an opportunity to dive into the Word of God in the original language.
Each week, you will get a whole new Hebrew vocabulary video with pictures of silly animals and many fun things your whole family will enjoy, as well as printable worksheets that include pronunciation guides for words included in the lesson.
Just click and learn!
As always you can visit with me at evonnemandella@yahoo.com or enjoy more resources HERE. Shalom in Jesus Christ!
Evonne Mandella
Wholesome Learning Publishing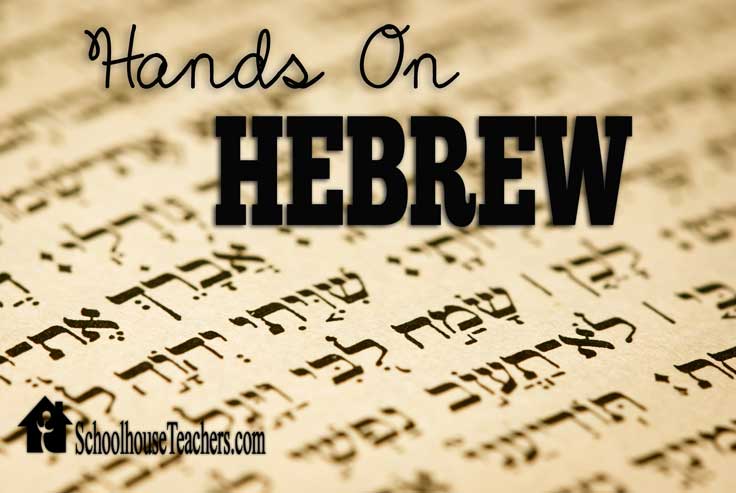 Course Outline

:

Lesson 1: Whole Family Lessons

Lesson 2: Words for Family

Lesson 3: Words for Parts of the Body

Lesson 4: Let's Learn Some Words

Lesson 5: Chair, Door, Room, Table, Window

Lesson 6: Morning, Light, Evening, Night, Tired

Lesson 7: Season, Spring, Fall, Winter, Summer

Lesson 8: Let's Learn Some Words

Lesson 9: Rain, Wet, Wind, Puddle, Storm

Lesson 10: Reading Practice

Lesson 11: Reading Text

Lesson 12: Reading Text – Please

Lesson 13: Numbers 9:4

Lesson 14: Numbers 9:5

Lesson 15: Hebrew Prayer Over the Bread (Part 1)

Lesson 16: Hebrew Prayer Over the Bread (Part 2)
For a printable course outline, click here.
Want More Fun? Visit me at Currclick.com to see our Bestselling Hebrew and Messianic Homeschool Curriculum!
Evonne Mandella "Wholesome Learning" Publishers Write me anytime at evonnemandella@yahoo.com to share your journey! Please have a King James Bible nearby for reference!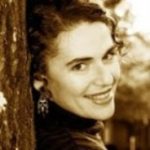 Evonne Mandella is a Jewish Christian Homeschooling Mom of two. She and her husband, Rob, founded Wholesome Learning Publications. With over 175 Homeschool Products, she gets to share her love for Messiah Jesus on a daily basis.
Evonne's journey has led her to the land of Israel, where she lived on kibbutz (communal farm). From there she moved back to the States where she became a Believer in Jesus (Yeshua) as she likes to call Him. Evonne has studied at Bethany Bible College and Seminary where she has earned her BA in Christian Education. She is currently finishing her Masters in C.E. as well.
Evonne has been a Featured Speaker for Homeschool Conferences and on The Homeschool Channel. Evonne's Workshops focus on bringing encouragement to struggling moms through humor and large sprinkles of inspiration, with Hebrew flavor.
You can catch her at her local Homeschool Group leading Jewish Dance and Hebrew Classes.
Checkout Evonne's Full Line of Messianic Jewish Homeschool Curriculum here.
Contact Evonne to share your journey of Faith at evonnemandella@yahoo.com