What's New?—February 22-28
The site will be undergoing some major updates this week and through the first few days of March that we hope will make it even easier and faster to find and use exactly what you're looking for. Keep an eye on our Schoolhouse Teachers Facebook group and your email for the latest updates, and don't hesitate to email us any questions or suggestions you have. You can reach Executive Editor Bonnie Rose Hudson at bhudson@theoldschoolhouse.com. 
Three new classes join the course lineup for February! If It Isn't Baroque is the newest class by Michelle Martin. This twelve-week course explores the history of Western music from ancient times through the modern day. The topics include the origins of music, musical styles from history, key composers and developments in musical history, and differences in various musical styles. PLUS this newest class is our first to debut with our instant download feature! You do not have to wait for each new week of material to become available. All twelve lessons are available immediately and can be printed as one resource.
In the Limelight is the newest drama elective by SchoolhouseTeachers.com author RachelAnn Rogish (author of Simply Shakespeare). In the Limelight is an exciting dramatic adventure for families of all sizes and ages. It's your passport to discovering new ideas and amazing stories—all discussed and performed in the light of God's Word. You'll find our new course on the Dailies tab. Our first two featured plays are Cyrano de Bergerac and Wind in the Willows.
Let's Talk is mom-to-mom encouragement written by fellow homeschooling mom Jenny Stephenson. Each month, Jenny will explore ways of living and parenting intentionally with purpose and focus. She has convenient printables ready to help you organize your thoughts about how you would like to see your family grow and change.
Would you like to use SchoolhouseTeachers.com in a co-op or group setting? Find what you need to know here.

Learn from the Experts and Our SchoolhouseTeachers.com Courses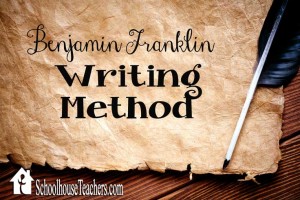 ABC: What Will I Be? with Alecia Francois focuses on hands-on play, expanding literacy skills, and exposing preschoolers to the world around them. This week: H is for Horse Trainer.
Biology with Ruth Sundeen will begin studying dissection

.

Renaissance History with Rhonda Clark returns with a new month of lessons on Renaissance explorers.
Animal Science with Dr. Sonya Brouillette will focus on domestic animals and their care. The next animals to be studied: cats and rodents.
Creative Writing with Carrie Daws-February

'

s focus: Getting your fiction published.
Imperial Russia with Professor Carol studies Napoleonic Russia and folk art.
NEW College Choice Guidance with Andy Erickson takes students in 9th-12th grades (as well as their parents) through the college preparation process one step at a time.
Photography Challenge with Michele Peterson is a weekly challenge designed to stretch your student's photography skills and creativity. This week's challenge topic: Pairs.
Free Market Economics with Savannah Liston focuses on preparing for and taking your course mid-term this month.
Literature with Adam Andrews-The Last Battle by C.S. Lewis. Study this literary classic with thought-provoking discussion questions, a story chart for you to develop, and much more!
French with Greg Shone is now in its third year! All prior lessons remain on the site so you can start or review at any time.
Benjamin Franklin Writing Method with Cheri Blomquist teaches writing through studying the masters.
Becoming an Internet Entrepreneur for Teens with Dana Beasley discusses marketing your business through blogging.
Writing with Janice Campbell studies "The Alarming Spread of Poetry" by P. G. Wodehouse.
Introduction to Architecture with Tammie Bairen. This week she looks at historic Mount Vernon.
Hands-On History will study the history of pirates and privateers.
Constitution and Bill of Rights concludes with executive orders and regulations, taxes and tax systems, and where our rights come from.
Mock Trial with Deborah Burt

on studies Marcellus shale, fracking, and some of the legal issues surrounding it

.
Art Techniques with Brenda Ellis shows us how to create wildlife silhouettes.
Reading Lessons for young readers or struggling readers with Dr. Matthew Glavach-current focus: middle school and high school struggling readers
Science with Jason Lindsey-weekly experiments with pdfs and videos
Figures in History with Cathy Diez-Luckie is on break for the spring and early summer.
Lapbooking with Kimm Bellotto shares a lapbook for middle and high school students on William Wordsworth and "Daffodils" by William Wordsworth.
Literature Kits with Marla Schultz continues with The Magician's Nephew by C.S. Lewis. 
Reading List with Michelle Miller-February's Topic: Africa!
Studio Art for Teens with Sharon Jeffus explores more artistic themes this month.
Plus great material in (How to Teach) Elementary Math from Dr. Peter Price, Tinkers Club with Ed Sobey, and Geology with Patrick Nurre of Northwest Treasures.
Previous weeks remain posted for catch up and review.
For a list of all courses both active and archived that includes suggested grade levels, click here.

Don't miss all the incredible resources we have in the Schoolhouse Preschool for your littlest learners including:
ABC with Me history series for preschoolers.
ABC: What Will I Be? series for preschoolers.
Early Learning Sensory Activities with Beth Gorden.
Charlotte Mason Preschool with Brittney Jordan.
Figures in History with Cathy Diez-Luckie.
Pre-K Activities: Read and Play.
Pre-K Spelling with video flashcards.
Animated books by EZ Tales.
Plus coloring activities, stories, games, and more!

We've got lots of new material this week in the Schoolhouse Dailies, bite-sized units to fit into any day.
Plus great ongoing material in Pre-K: Read and Play, Everyday Copywork, Daily Discoveries, Joy in the Morning, Kinetic Connections, and Everyday Explorers: USA.
And don't forget the resources in our completed Dailies including Everyday Easels, Daily Math, Daily Puzzlers, Everyday Astronomy, Everyday Explorers: Australia & New Zealand, Everyday Explorers: Canada, Schoolhouse Spelling: Pre-K/K, Schoolhouse Spelling: Lower Elementary, Simply Shakespeare, Test Your Knowledge, This Day in History, and This Month's Menu.

Don't forget the DOZENS of complete courses we have on the site including:
Do you want to see everything SchoolhouseTeachers.com has to offer—in one place? Click here to see an outline of what you'll find and where to find it!
Looking for a way to track the various courses you and your family are using on SchoolhouseTeachers.com? CLICK HERE for our monthly Course Checklists for your Pre-K through Elementary, Middle School, or High School students. These printable lists allow you to mark your progress each day and week. A Skills Learned page follows at the end of each checklist, giving you room for detailed notes. A final checklist is available for your family's other courses, as well.