What's New This Week?—December 15-20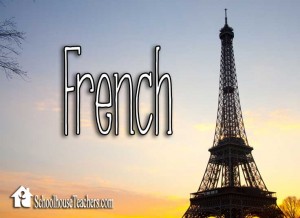 It's a whole new month on SchoolhouseTeachers.com, and we have dozens of exciting new lessons to share with you! The biggest news for December is the return of French class with Greg Shone, now in its third year! All prior lessons remain available for your use or review at any time.
We'll have several Christmas-themed lessons for you this month as well. Lapbooking and the Monthly Reading List both have month-long Christmas units, and Dr. Sonya Brouillette's Animal Science course will look at animals of the Nativity all this month. We also have two new Christmas-themed unit studies in Ditch the Desk, and Rhonda Clark is celebrating the 12 days of Christmas with a special Renaissance History lesson for the month. Introduction to Architecture with Tammie Bairen will study the architecture of gingerbread houses this week, and Schoolhouse Spelling is incorporating a passage from A Christmas Carol by Charles Dickens with their lessons in Upper Elementary-High School.
Many of our teachers will have adjusted schedules this month due to the Christmas holiday and vacation. Most of our teachers will have new lessons on December 1, 8, and 15. Very little new content is scheduled for the week of December 22. Most of our teachers will also take the week of the 29th off for the New Year holiday. Please see the course checklists for each teacher's individual schedule.
Would you like to use SchoolhouseTeachers.com in a co-op or group setting? Find what you need to know here.

Learn from the Experts and Our SchoolhouseTeachers.com Courses
Biology with Ruth Sundeen discusses the debate between evolution and Creationism

.

Renaissance History with Rhonda Clark explores the 12 days of Christmas.
Animal Science with Dr. Sonya Brouillette studies three more fascinating animals this month.
Creative Writing with Carrie Daws-December

'

s focus: Dialogue, Pt. 2
Imperial Russia with Professor Carol studies Catherine the Great and offers a mid-term exam.
Bug Science with Rosemarie Pagano moves into the world of the "bad" worms-parasites.
Free Market Economics with Savannah Liston studies spontaneous order, money and exchange, the division of labor, competition, and monopolies.
Literature with Adam Andrews-The Magician's Nephew by C.S. Lewis. Eight pages of study on a literary classic, a blank story chart for you to develop, and much more!
Whole Foods Cooking with Sue Gregg teaches students about animal protein main dishes such as fish and meatless main dishes such as Gourmet Baked Potatoes and Pasta Parmesan Supreme.
Benjamin Franklin Writing Method with Cheri Blomquist teaches writing through studying the masters.
Becoming an Internet Entrepreneur for Teens with Dana Beasley studies choosing your font this week.
Writing with Janice Campbell-"The Wild Swans at Coole," a poem by William Butler Yeats.
Introduction to Architecture with Tammie Bairen. This week: the architecture of gingerbread houses.
Hands-On History will introduce us to Queen Victoria, Prince Albert, and Charles Dickens this week.
Constitution and Bill of Rights looks at the Sixth Amendment, criminal charges and witnesses, compulsory process, and the assistance of council.
Mock Trial with Deborah Burt

on-our current topic: environmental law.

Develop your own mock trial, debate, or persuasive paper.
Art Techniques with Brenda Ellis explores tempera painting.
ESL Learning continues to build vocabulary and ESL skills.
Music Theory/Education with Michelle Martin has concluded Music Theory II. Michelle will return with a new course segment in the spring.
Homesteading with Lisa Barthuly will return in January.
Reading Lessons for young readers or struggling readers with Dr. Matthew Glavach-current focus: middle school and high school struggling readers
Science with Jason Lindsey-weekly experiments with pdfs and videos
Figures in History with Cathy Diez-Luckie-November's Figure: William the Conqueror.
Algebra for Kids with Bob Hazen has supplemental algebra worksheets for elementary students.
Lapbooking with Kimm Bellotto shares a unit on "Why the Chimes Rang" by Raymond Macdonald Alden.
Literature Kits with Marla Schultz-December's Lit Kit on The Lion, the Witch, and the Wardrobe continues!
Reading List with Michelle Miller-December's Topic: Christmas.
Studio Art for Teens with Sharon Jeffus explores trees in art.
Plus great material in (How to Teach) Elementary Math from Dr. Peter Price, Tinkers Club with Ed Sobey, and Geology with Patrick Nurre of Northwest Treasures.
Previous weeks remain posted for catch up and review.
For a list of all courses both active and archived that includes suggested grade levels, click here.

Don't miss all the incredible resources we have in the Schoolhouse Preschool for your littlest learners including:
ABC with Me history series for preschoolers.
Early Learning Sensory Activities with Beth Gorden.
Charlotte Mason Preschool with Brittney Jordan.
Figures in History with Cathy Diez-Luckie.
Pre-K Activities: Read and Play.
Pre-K Spelling with video flashcards.
Animated books by EZ Tales.
Plus coloring activities, stories, games, and more!

We've got lots of new material this week in the Schoolhouse Dailies, bite-sized units to fit into any day.
Plus great ongoing material in Pre-K: Read and Play, Simply Shakespeare (King Lear), Everyday Copywork, Daily Discoveries, Joy in the Morning, Kinetic Connections, and Everyday Explorers: USA.
And don't forget the resources in our completed Dailies including Everyday Easels, Daily Math, Everyday Astronomy, Everyday Explorers: Australia & New Zealand, Everyday Explorers: Canada, Schoolhouse Spelling: Pre-K/K, Schoolhouse Spelling: Lower Elementary, Test Your Knowledge, This Day in History, and This Month's Menu.

Don't forget the DOZENS of complete courses we have on the site including:
Do you want to see everything SchoolhouseTeachers.com has to offer—in one place? Click here to see an outline of what you'll find and where to find it!
Looking for a way to track the various courses you and your family are using on SchoolhouseTeachers.com? CLICK HERE for our monthly Course Checklists for your Pre-K through Elementary, Middle School, or High School students. These printable lists allow you to mark your progress each day and week. A Skills Learned page follows at the end of each checklist, giving you room for detailed notes. A final checklist is available for your family's other courses, as well.