Cindy West
Welcome to Charlotte Mason Homeschooling on SchoolhouseTeachers.com!
How to Use This Course
This 16-week class by Cindy West for SchoolhouseTeachers.com is designed to help parents interested in learning how to implement aspects of the Charlotte Mason method into their homeschooling. Practical tips and even homework for parents is given!
Course Details
Course Introduction
"Education is an atmosphere, a discipline, and a life."
Would you like to teach your children in ways that encourage curiosity and enthusiasm, while at the same time expecting excellence in many areas—even more areas than most curricula expect? Charlotte Mason's philosophies and principles are still fresh today and can help homeschoolers who use them to raise bright, resourceful children. In this 16-week, practical, easy-to-understand, easy-to-implement course, you'll get all the basics for adding Charlotte Mason's methods to your homeschool.
Components
Weekly explanation of various aspects of the Charlotte Mason method
Length
16 weekly lessons
Ages/Grades
Parents/family
Course Outline
Week 1: Why Implement the Charlotte Mason Style?
Week 2: Living Literature as Education
Week 3: Short Lessons
Week 4: Narration
Week 5: Copywork and Dictation
Week 6: Poetry and Shakespeare
Week 7: "Living" Math
Week 8: Artist Study
Week 9: Composer and Hymn Study
Week 10: Nature Study
Week 11: Handicrafts and Life Skills
Week 12: Foreign Language
Week 13: A Love for the Word of God
Week 14: Habit Training
Week 15: A Typical Daily Schedule
Week 16: Fantastic Charlotte Mason Resources
Download a Preview
View a sample of the Charlotte Mason Homeschooling class.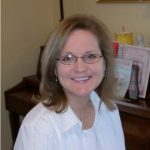 Cindy West, M. Ed. has homeschooled her three children (16, 12, 6) from the very beginning. As a former public school teacher, she knew there had to be a better way to instill a love for learning in children. Thankfully, she learned about the Charlotte Mason style of homeschooling early on, and it's been the perfect fit for her family. Besides a love for learning, she and her children have also found the CM style to be very rigorous, yet gentle and easy to adapt at the same time. Cindy often shares her passion for this method of homeschooling at Our Journey Westward and has created several curriculum resources that fit well with the CM style at Shining Dawn Books.  
"Cindy has included some links within this course that could be affiliate links.  She wants to fully disclose that if you purchase some of the recommended resources through her links, she will make a small commission."