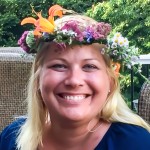 Helena Puksta
Leah Walton
Lesson Designer
Helena and her husband are proud parents of three wonderful, energetic boys, two of which are teenagers. She is a first-generation-born Latvian here in America and has been raised immersed in the Latvian culture. Helena learned how to make gold and silver Latvian jewelry from her father, a hobby she hopes to expand on again soon. She enjoys crochet, gardening, fishing, camping, and playing with the family's two dogs–a beagle and a black Labrador.
Helena has a deep love for children and teaching them about Jesus. She has led an Awana program as a Commander and both started and directed a Christ-centered preschool that grew quickly. Helena majored in Communication in community college, where she met her husband. She recently went back to school to take classes in Early Education and is now taking a break from her education to focus on homeschooling.
Helena loves being home with the boys, one of which has special needs, and teaching them all the Lord intends for them to learn. She has recently had the privilege of encouraging other homeschool moms new to homeschooling and relishes the opportunity to do so. Visit her at her website, www.HelenaHomeschools.com.
More Info