Marci Hanks
Welcome to Producing Your Play!
If you completed my Writing a Play course last semester, congratulations! You are ready to take the next step and bring your production to fruition. If you didn't write a script, that's okay too. You might be able to find one through your library or buy one on-line.
The goal of this course is to help you organize and plan your production, whether you are doing a living room play, a backyard play, or a full-cast production. During the months of January and February, this course is designed to present all the information you need to produce your play. You'll learn about costumes, props, rehearsals, directing, and set design and building. There are so many exciting opportunities when you direct a play. With each lesson, I have provided optional handouts and forms you can use to help you organize your play. You can direct a play! This course will show you how.
Living Room and Backyard Plays can be light and funny without a lot of planning or preparation. Living Room and Backyard Plays give more time for just having fun with friends. You can put as much (or as little) effort into planning as you choose. Oftentimes, when I do these types of plays with my nieces and nephews at family reunions, we only have time to run through the script once or twice right before we are going to perform it. We try to find whatever props might work at the last minute. It's fun.
For full-cast productions with several cast members, getting a play ready is a process. New lessons will be presented every week during January and February, but you do not have to complete each lesson every week. You can go at your own pace. You will need to work on getting everything ready over a few months. By March, you should be ready to start rehearsals and conclude with a May or June performance.
Please be sure to pick the right size play for you. Producing a full-cast play can be a lot of work. You want to make sure if you are doing a full-cast production that you have enough room for the cast to get together and that every family is helping behind the scenes! If you try to do too big of a production without a lot of help, it can become overwhelming. More hands means less work for everyone! Full-cast productions provide a theater-like experience and show what hard work can accomplish.
If you have any questions, or if you would like to share pictures of your play rehearsals, props, costumes, or sets, you can email me, (with your parents' permission), at drmarcihanks@gmail.com. We may post some pictures on my website:
https://christianscripts-public.sharepoint.com/Pages/default.aspx.
"I can do all things through Christ, which strengtheneth me," (Philippians 4:13 KJV).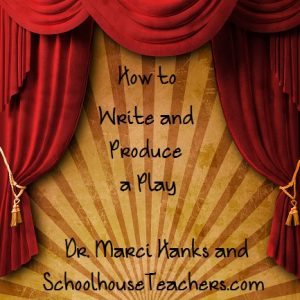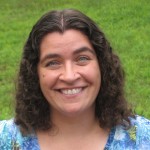 Dr. Marci Hanks is a homeschooling mom who enjoys writing and producing plays. She taught middle school, high school, and religious education classes. She earned her Doctorate of Education in Teaching and Learning Literacy. She also loves coordinating field trips and teaching writing classes for her homeschool group in Wisconsin. To contact Marci, email: drmarcihanks@gmail.com.
Course transcript information
Upon successful completion of all 20 lessons (11 lessons in the Fall 2013 Semester and 9 lessons in the Spring 2014 Semester), your child will learn the equivalent of 0.5 credits of a high school Introduction to Theater Arts I course.
For students involved in a full-scale production with family, friends, or homeschool groups, an additional 0.5 credits may be earned for helping with the technical aspects of theater, such as sets, props, costumes, lighting, programs, directing, or teaching acting skills. Thus, if students both complete the course and help with the staging of a full production, 1.0 academic credit is earned.
— Dr. Marci Hanks
* Please be informed of your own state's academic requirements: http://schoolhouseconnect.com/state-homeschool-laws/
For further transcript help, go to our help page, here: http://schoolhouseteachers.com/2013/05/creating-a-transcript/