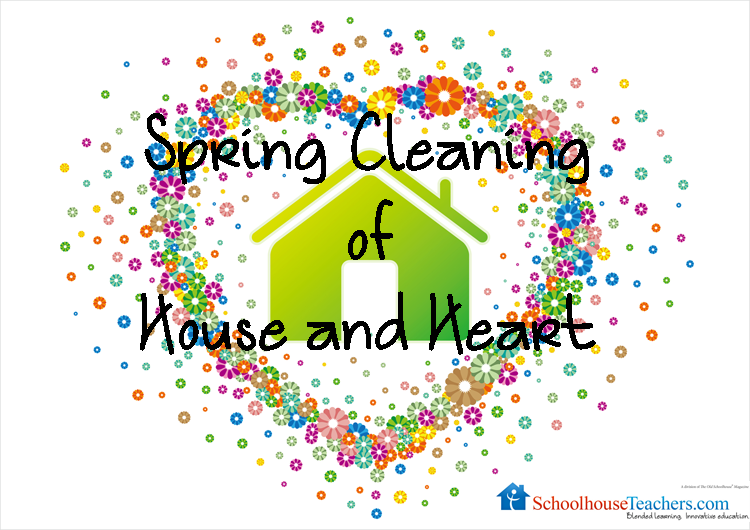 Welcome to Spring Cleaning of House and Heart on SchoolhouseTeachers.com!
The words "spring cleaning" make many of us cringe, but this month, SchoolhouseTeachers.com has some special encouragement for you. It's called Spring Cleaning of House and Heart. All this week and next, we'll share articles full of practical tips for cleaning out the clutter in your home and inspiration for dealing with the clutter in your heart. We'll learn from King Josiah, a tired mom who struggled with endless checklists, and more. Get ready for some deep cleaning and deeper encouragement.
Out with the Cold, In With the Renewal by Stephen Halliwell
Before we can tackle the household messes, we must first seek "spiritual spring cleaning" so as not to get overwhelmed.
Those Filthy Rags by Toni M. Babcock
Letting go of our self-righteous rags and trusting the Righteous One.
Are We There Yet by Phyllis Sather
Finding peace and joy while spring cleaning as a family.
Escape from Chaos by Tammie Bairen
Organized chaos—friend or foe?
Being a Servant by Joe Baginski
If cleanliness is next to godliness then it would seem that a great place to start cleaning is one's own internal attitude.  This article captures how I handled that challenge.
When Spring Arrives: a short story by Phyllis Stokes
A story about fresh starts and new life.
A Successful Spring Cleaning by Adekunle Lawal
Spring cleaning lessons from King Josiah
Removing the Stubborn Stains of Unforgiveness by Bobbie Cole
Author Bobbie Ann Cole examines the freedom that forgiveness brings.
We're Purchased People for His Purpose by Robert Schaetzle, Sr.
Since we are purchased for "His good purpose," should we be more mindful of how our Lord is continually working to expand or clean our hearts?
Clean Up for Tomorrow by Akeisha Denton
A spiritual cleansing starts during a season, but it equips you for a lifetime.
Firm Foundations by Elaine Vanpoole
When spring cleaning, it's wise to look to the foundations of one's house as well.
Sparkle and Shine by Karen B. White
Just as we spring clean our homes so that they sparkle and shine, our "temples" should also be cleaned so that they sparkle and shine for Jesus.
Spring Clean, Spiritual Sheen by Deborah Ann Belka
Spring cleaning that produces fruit that endures for more than a season.
Spring Cleaning and New Beginnings by Mitzi Young
Throwing away the spoiled all-about-me attitude.
Stitch, Pitch, Ditch, Switch by Kathern Nemec
Learn how to change your spring cleaning from a dreaded chore to a manageable task by following God's example.
Weed That Closet by J.B. Broy
Nine tips to help you bring order to your chaotic closet.
A Leader's Vision by Brenda Lenard
Looking ahead with vision and purpose.