Joy Sikorski
Welcome to the Music-Voice Lessons for the Entire Family
This course is now completed and archived. Joy Sikorski provided 11 months of fantastic lessons on our site; all remain archived for your learning and enjoyment (links below). The editors of SchoolhouseTeachers.com thank Joy for her contributions, wisdom, and heart for homeschooling! — Ed.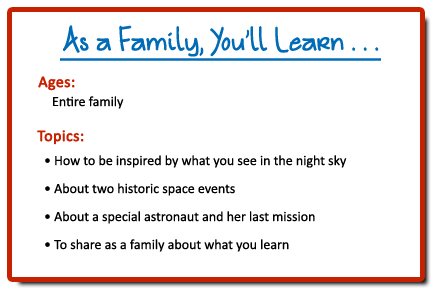 What do you see when you look up? I mean look up at the night skies when it is dark. Do you see only city lights or do you see the moon and the stars and all the dark spaces in between? What do you think about when you look up? What words come to your mind? Or what song?
I know it is kind of unusual to think about a song when you look up into the night skies, but because I like to create cross-curricular activities, we are going to put together a bit of astronomy with a bit of history and a bit of music for this month's lesson.
April is not only the time we celebrate the arrival of spring or the fun of April Fool's Day, it is also the month in which two important events in the history of space exploration took place. This month's lesson will spin off from those two space events into nothing less than…a song, of course!
Ready? Launch into this month's lesson here.
This Month's Goal
Expand your horizons about where you fit into the world.
SchoolhouseTeachers.com note: Parents should closely monitor children's use of YouTube and Wikipedia if you navigate away from the videos and articles cited in these lessons. We also recommend viewing the videos on a full screen setting in order to minimize your students' exposure to potentially offensive ads.
SchoolhouseTeachers.com Note: Some computers may ask you to "allow" before going to sites like Joy's singingmastermind.com site. Simply click "allow" to link to Joy's page.
Parents should closely monitor children's use of YouTube and Wikipedia if you navigate away from the videos cited in these lessons. © 2012 Joy Sikorski Singing Mastermind™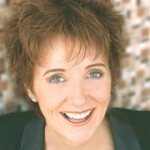 Joy Sikorski, M.A., an award-winning film composer, performer and educator, founded SingBabySing® and Singing Mastermind, two online businesses dedicated to freeing voices around the world. Her credits include Fearless Voice Power, an affordable online singing lessons course, a book, Singing Through Life With Your Mouth Closed, a National Public Relations Society Award for music in a documentary film, music for a  feature film, radio commercials, an international album, choral music, and works for piano and voice and other instruments.
   She is also co-composer/lyricist for a musical based on an adaptation of Newberry Award-winning author Lois Lowry's book, Gathering Blue.  Ms. Sikorski has appeared on television, is a published author featured in the Inlandia CWW Anthology, Los Angeles Family Magazine and has been interviewed by the Dallas Opera Co. and elsewhere.  She is known for her unique performance genre, "Improper-Music of the Moment," in which she concurrently creates music and lyrics while singing and playing the piano.  She also co-founded Caring for the Kenai, an award-winning environmental awareness contest featured on ABC's Good Morning America; its contestants have received the President's Environmental Youth Award.
Her current projects include several voice training courses, a nonfiction book, a children's book series, a historic fiction novel based on an Old Testament story, and several original music projects.