Homeschool High School Graduation
The final class is over. The report cards are finalized. The transcript is done. Now it's time to celebrate!
If you are a co-op or ST Community leader, you'll probably want to start planning for graduation in January. The smaller your group, the less time you'll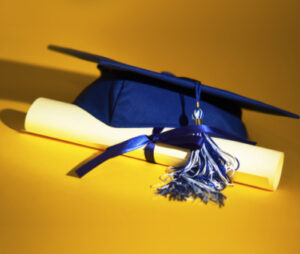 need, but don't wait until the last minute. Even a church event or living-room graduation needs a little planning.
If your co-op is very small, you may even wish to include a promotion ceremony for each grade in your group. The wee ones graduating from Kindergarten look so cute in their little white gowns! And every student, from Grade 1 on up through Grade 11, appreciates a certificate of recognition. Now is a good time to highlight other accomplishments of the school year, as well as to acknowledge the middle school graduates, before the program and slideshows for the high school graduates begin.
However you decide to celebrate, here are some things you'll want to organize. It may help to print out these templates to follow along as you make plans.
1. Head Count
Be sure to start early to learn how many graduates to expect.
Will you limit your ceremony to just your group, or invite other homeschoolers from your local area? Will you be able to add one or two at the last minute?
Get names and contact information, and start a social media group or round-robin email to keep everyone informed.
Not everyone will be able to afford the same budget. How much is each family willing to financially commit to spending?
Be sure to use the templates to estimate the projected costs.
2. Venue
Will your group meet at a local church?
Are there any community halls or parks available to use?
Does one of your group's families have a large back yard?
The cost of renting an event space will have to be divided among the families of the graduates, so get creative!
If seating will be limited, be sure to communicate to the families how many can be accommodated. Have a plan to create tickets or track attendance if seating is limited.
Will you have to provide or rent your own chairs and tables?
3. Date
When is your event venue available?
Do you have an established group that has a set date and time for graduation, such as the first Saturday of June at 1 pm, or do you have more flexibility?
Do you want to celebrate before the public schools dismiss and all the fun hangout spots get crowded?
Does an evening or a weekend work better for parents and grandparents to attend?
4. Cap, Gown, and Diploma
A number of websites sell caps, gowns, and tassels, along with diploma holders which fit a standard size paper. You may bulk order and share the cost, or provide links for families to order for themselves.
Will your group choose a color of gown for your graduation or let the graduates pick?
Will your group print the diplomas? If not, make sure the graduates' families create and print a diploma. Either way, make sure to double check the spelling of names and any accolades earned.
5. Food
What would a party be without refreshments? Be sure to decide whether to only serve cake or to have a potluck with lots of treats.
Split the cost of the cake or create a signup form for a potluck.
Be sure to ask about food allergies among the graduates!
6. Presenters
As the primary homeschool teachers, parents should probably be involved in handing out their students' diplomas. If time permits, you may invite them to pray or speak a word of encouragement as well.
Pastors are another well of resources as presenters, to read scripture, pray, or give a message to the graduates.
The co-op or group coordinators would probably like to be involved as well. Make a list of participants to choose from as you design the agenda for your ceremony.
Be sure to ask presenters as early as possible, so they can save the date in their calendars.
If time allows, the person presenting the diplomas may read a short biography of the student. Be sure to ask the student to submit his or her bio ahead of time.
7. Photos and Videos
Consider where you can create a picture spot for graduates and their families.
Having volunteers take photos so the entire family can be in the frame would be a special touch.
One special group photo could be staged as graduates arrive, before the ceremony. This could include individual portrait shots, as well as a serious group photo and a candid photo of the group tossing their caps. Be sure to allow plenty of time for what you plan.
Would any of the parents like to record the ceremony and share it with the rest? Do you have someone else able to do that?
8. Decorations
This is another expense that should be accounted for when you split the cost with the families. You can be as simple or creative as your families' budgets allow.
You could even hold a party beforehand to make simple handmade decorations as a group.
Make sure you have a crew lined up to set up and take down before and after the program.
9. Graduate Displays
Some graduations allow the students or parents to create a short 3- to 5-minute slideshow showing their homeschooling journey.
Others accept a certain number of photos from each graduate and mix them into a single slideshow.
Another idea is to allow students to create a poster board display of their interests and accomplishments.
If any of the graduates has an interest in public speaking, he or she can be involved in the ceremony in place of traditional valedictorian and salutatorian addresses.
10. Music and Recordings
Do you have a recording of "Pomp and Circumstance" that you can play? (This is also known as "The Graduation March.")
Do you need a pianist?
Would you like to include some worship music in the ceremony?
Are any of the graduates proficient in music, and would they like to help?
Do you have a sound system and technician lined up?
Do you have the computer system and technician set up to play the slideshow(s)?
11. Programs and Invitations
Will you be printing invitations for the event, providing a template for graduates to print themselves, or skipping this step entirely?
Both the invitations and the program will need graphics. You can search for a free, public-domain image online or create your own.
Put together a program that lists the highlights of your ceremony and the names of the graduates.
If you must have the programs and invitations printed at a store, be sure to add the estimated cost to the participation fee you charge.
12. Communication
Be sure to communicate with your graduates' families early and often.
Some topics to include in your communication:

Participation fees (if any)
DVD or cap/gown preorders
Measurements for gowns, if they are to be ordered as a group
Diplomas: whether they will be provided or brought that day by the family
Location
Limits on seating (if any)
Arrival time
Dress code (will they be wearing shorts under those long robes, or formal attire?)
Special needs (e.g., peanut or other anaphylactic allergies in the group)
Slideshows and/or displays: communicate parameters and limits on how many photos or how long each slideshow should be
Student bios, which may include interests, significant achievements, plans for the future, fond memories or well-wishes
Volunteers where needed
Be sure to print these templates to help you organize your event.
Finally, don't forget to register your graduate(s) for the annual Graduating Senior Recognition at SchoolhouseTeachers.com. Expect to see announcements for this virtual event in April and/or May. Full details will be in the Activity Calendar and Events section of your Member Dashboard.