A number of our courses include a Charlotte Mason component. Here is a list of the ones that most closely align with her method. If you use a course with a Charlotte Mason component that we don't have listed here, let us know! Email SchoolhouseTeachers.com Executive Manager at STdirector@theoldschoolhouse.com.
Featured Resource
Looking for more information on Charlotte Mason homeschooling? Be sure to check out our Charlotte Mason Homeschool Help page filled with eBooks, articles, and courses that can help you get started using the Charlotte Mason method.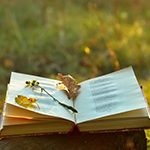 Charlotte Mason believed in the importance of a child's spiritual development, not only their academic knowledge. Studying the lessons the Bible teaches, the foundations for a life pleasing to God, and the steps necessary to developing a God-honoring character were an essential part of her approach to education. All of the Bible classes on SchoolhouseTeachers.com support these goals.
Reader's Theatre presented by Susan Brown is a series of 76 short scripts designed to be read by two or more students. Memorization is not required because the focus on this form of drama is on reading the work with expression rather than reciting it. They are easily adapted to both single-child households and small groups. These scripts are a wonderful tool to increase reading skills, comprehension, speaking skills, and confidence.
Hands-On Math Help with Cuisenaire Rods is designed to empower parents to help their children learn. Its purpose is to help parents of students in preschool-3rd grade make math enjoyable instead of frustrating. Through a free app and weekly tutorial videos, Philip Rowlands shows parents how to teach math in a manner that involves play, directed activities, open-ended tasks, and challenges. It is designed to work with Cuisenaire rods, but instructions for making your own set are included if you do not currently have them.
Let's Do Math Outside: These fun supplements are perfect for any time you want to grab some schoolwork and head outside! Whether you are counting bugs, photographing 3D shapes, discovering angles, or going on a weights and measures scavenger hunt, you'll find dozens of worksheets ready to print and take outside!
Discovering American Folktales begins with an introductory lesson that helps parents and students explore what a story is and how different types of stories exist from around the world. It then moves into a fun and engaging look at the folktales of Johnny Appleseed, Paul Bunyan, Pecos Bill, John Henry, and Uncle Remus.
Stories of Great Americans for Little Americans is designed to not only bring history to life but to also build language through vocabulary activities, practice handwriting skills with copywork, apply the lessons of the story through Bible activities, help students learn about geography, improve reading comprehension, and foster creativity through hands-on projects.