Exploring Geography with Google Earth
by Andy Harris
Overview
In the last two months, I've described Google Earth, an amazing free program that provides tremendous insight into geography, but also leads to many other disciplines. This month, you will pick a topic appropriate to your ability and use Google Earth to explore someplace or something new.
Since Google Earth is such an expansive program, there are many ways to approach it. The best would be to get a broad overview of the program's general features so you can use it well whenever you study geography, or when geographical knowledge is beneficial to another study. (Often, geography is very important in history or science, for example.)
Once you know the general features of the tool, you should dig in to an area that is of special interest to you, or that will help you with some other studies. I have listed a few suggested topics that will be great for further study. The student and parent will need to decide together which projects they would like to tackle.
Most of these exercises are exploratory, so there is not really a "correct" answer. The real goal here is to explore something new, so the parent is the best judge of what the student has learned.
I'll be talking about Google Earth at TOS's March 5 Expo, so be a part of that seminar if you can!
Elementary projects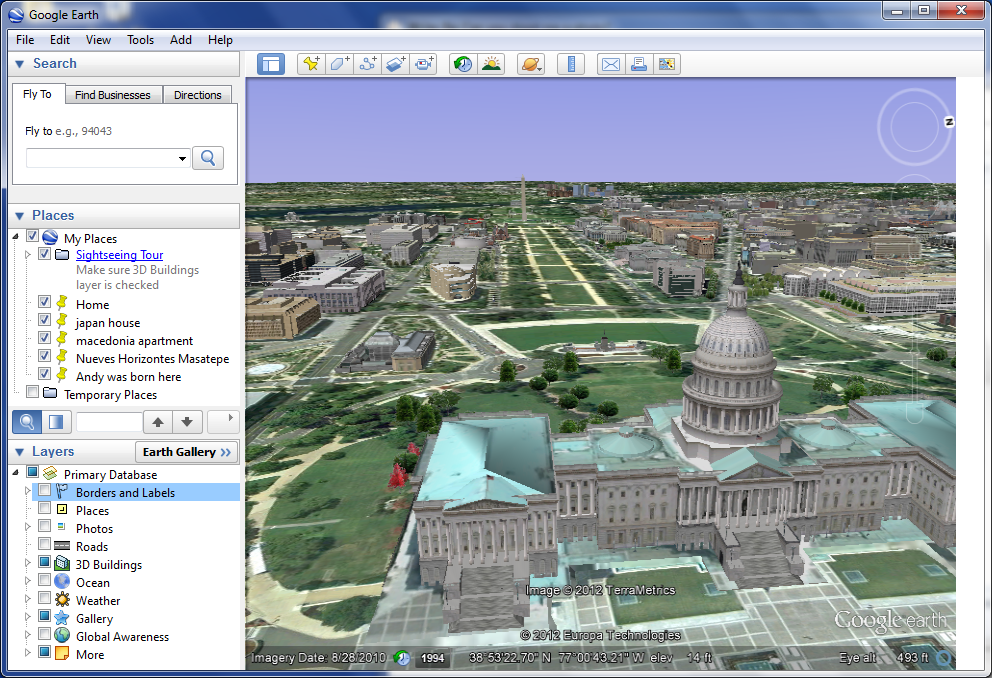 Find famous places – Every time you come across a place name this month, see if you can find that place on Google Earth. Use Google Earth to help answer questions (for example: Why was Vicksburg so important during the Civil War?). If you want, you can keep a placemark of each of the places you have found. This is especially fun for history lessons and books that involve journeys.
Swim with the fishes – Turn on animal tracking (Layers – Primary Data – Ocean – Animal tracking) and find a tagged ocean animal (it will show a fish icon) and show where it is swimming. Sometimes there are plenty of fish, sometimes they are harder to find.
House – Hunting – Use Google Earth to look at the entire globe. Name and identify your country, then zoom in to find your state. Zoom in further to find your city and your neighborhood. If streetview is enabled in your area, get a street view of your house. Repeat for your family members. This is easier if "borders and labels" is turned on in the main Layers menu.
Intermediate projects
Blaze a trail – Research some historic journey (Oregon Trail, the Exodus, a family trip). Place a placemark at each point on the journey. Use the "Record a tour" icon (at the top of the earth window) to record the parts of your tour. Use the voice recorder to explain the significance of each point. Show your parents your finished tour.
Web cam safari – Locate a web cam pointing at a place wild animals converge (Try: Layers – Gallery – National Geographic – Wildlife web cams). Find a promising web cam and check it several times during the day. There are usually a number of good ones in South Africa. Chart the animals you see. See who in your family can get the best animal sighting.
Weather prediction – Turn on the clouds and radar (Layers – Weather – Clouds / Radar). Look at the area just west of your location. Use this to predict what the weather will be like in your location tomorrow. Check to see if you are correct. See if you can do better than the local news.
Advanced Projects
Home builder – Download and install (with your parents permission) Google Sketchup. Learn how to use this software to build a model of your home or some famous landmark in your area. 3D modeling is difficult to learn, even with a relatively easy package like sketchup. You will need patience, practice, and maybe some outside tutorials.
Pilot wings – Learn how to use the flight simulator. Start with the propeller craft; it is much easier for a beginner. Investigate how airplanes work (you might need to go to outside websites for this), how the control systems work, and how to use the mouse to control your aircraft. Plot a path between two airports in your area, and fly from one to the other.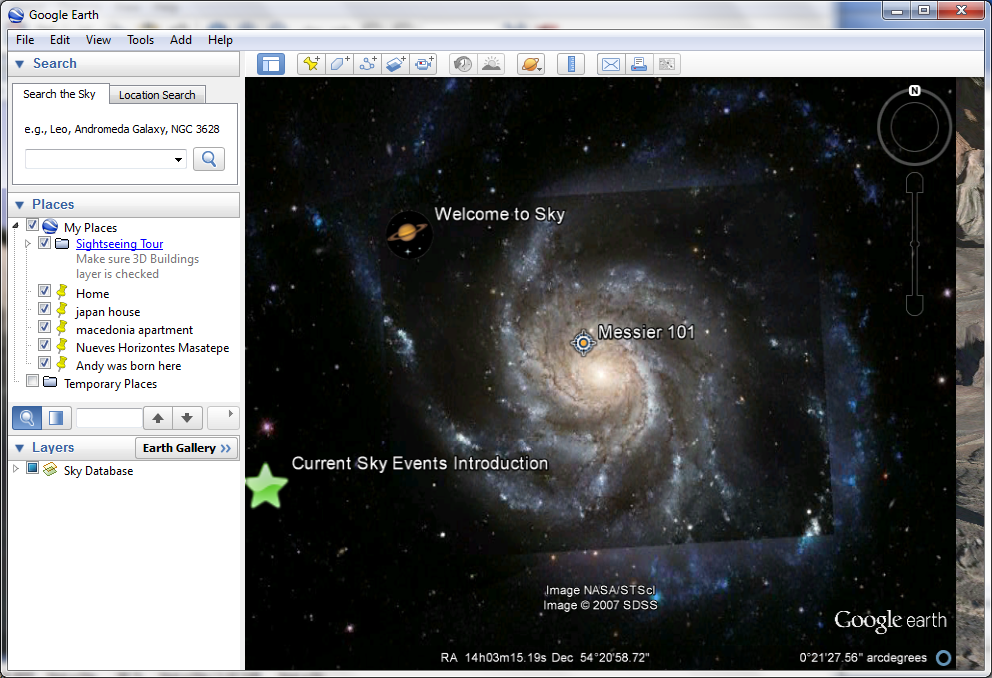 To infinity and beyond – Switch the view to Google Sky (View – Explore – Sky). Turn on "Current Sky Events" to determine what is happening in astronomy today. Several observatories and labs have daily podcasts and audios explaining current experiments. Pick an experiment and explain to your parents what this experiment is trying to prove. You may have to do research outside Google Earth to find out more, so always be sure to get your parents' permission before doing web searches.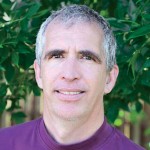 Andy Harris loves learning and teaching. He has taught all levels, from kindergarten to grad school, and every subject from special education to advanced computer programming.
Andy currently teaches freshman computer science, game programming, and web programming at Indiana University/Purdue University–Indianapolis (IUPUI.) He also sometimes teaches a computing class at his family's homeschool coop.
Andy has written a number of books on computer programming topics including HTML / XHTML / CSS All in One for Dummies and Game Programming – the L Line. He is also the author of The Tech Homeschooler column in The Old Schoolhouse® Magazine. In this role, he illustrates ways technology and computing can support the homeschool environment.