Tyler and Maggie Hogan
Welcome to the November/December Geography: Around the World Lessons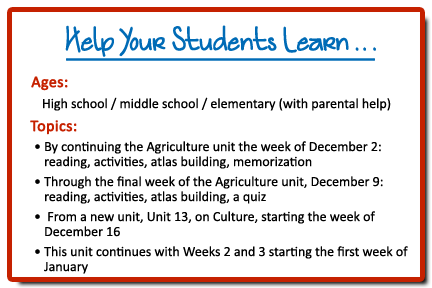 One of the most important jobs in the world is farming. Just a few hundred years ago, nearly everyone was a farmer, at least part time. Now, some of us might know a farmer or grow a small vegetable garden, but the world has changed, especially in developed countries like the United States. Why did this change? Why don't we all still live on farms?
In order to figure that out, we need to look at farming methods throughout history and learn a bit about the modern farming that makes a developed country possible. We'll also discuss livestock, and the business of agriculture. . . .
Lessons for these three weeks cover plants we grow and eat, livestock, agribusiness, and sidebars on Ukraine, the Alaskan fishing industry, and irrigation in Israel.

*************** 
Introduction to Geography: Around the World
I love geography.
Geography is one of the most undertaught subjects in schools, but one of the most important. The study of the earth, its structure, and its inhabitants, informs just about everything we do every day. The world grows more closely connected every year, and things that used to concern only a few people locally now affect the whole world. In a world that is increasingly global-minded, where long distance is a thing of the past, it is perhaps one of the most crucial topics for us to understand. Geography encompasses both the arts and the sciences as it involves both human and physical realities. Sociology, culture, religion, transportation, agriculture, government, and economics are all a part of human geography. Physical geography includes studies in geology, meteorology, oceanography, ecology, hydrology, and astronomy.
This course is an overview in world geography, not a doctoral program. But I hope that by the end, you'll have an appreciation for the depth of knowledge just waiting to be discovered. More than anything, I want this program to whet your appetite for learning about the world in which you live. We'll have to move quickly in order to cover all this information, but don't let the pace stop you from learning more on your own. If you find something fascinating, feel free to delve into it. Do one of the optional projects or find a way to do some extra research. You'll never regret having read an extra good book on a topic you enjoy!
–Tyler Hogan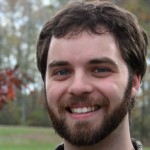 Tyler Hogan is the director of curriculum development at Bright Ideas Press. He lives in Dover, Delaware, with his wife, Helen, and their adorable daughters, Kaylee, Avalon, and Sierra. He and Helen are both homeschool graduates and now homeschooling parents. Tyler has spoken, performed, and taught classes around the world on homeschooling, geography, the arts, and worldview. He also works as the operations manager for Grace for Dover, a nonprofit Christian community development organization. In his "spare time," he teaches homeschool co-op classes, reads good books, drinks tea, overanalyzes movies, and writes about himself in the third person. He has a BA in theatre from Belhaven University and always enjoys the adventure of lifelong learning.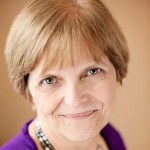 Maggie Hogan and her husband Bob started homeschooling their two boys in 1991. With precious few resources available for homeschoolers, they had to develop most of their own curriculum, and before long Bright Ideas Press was born. Publishing geography, history, and science materials (such as the popular The Mystery of History series, the Christian Kids Explore Science series, Hands-On Geography, and many others), they have strived to make practical, fun, and affordable resources available to homeschoolers all over the world.
Enjoy!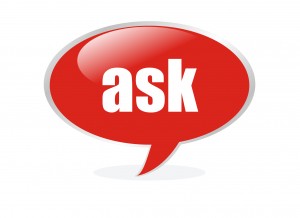 Do you have a question about geography? Try our new Ask a Question page.