Bonnie Rose Hudson
Welcome to Asia: Trade Route Safari
April 2014 Lessons
* * * * *
Editor's Note: Asia: Trade Route Safari will move to a slower pace for the rest of this winter and first half of spring. Course Teacher Bonnie Hudson is also SchoolhouseTeachers.com's Dailies unit studies coeditor and is working hard on many new Dailies features unveiled in recent weeks.
There are now 34 lessons in this series archived for your use and enjoyment at any time. 
The latest lessons, for March and April, are Turkmenistan (Week 31),  Iran (Week 32),  Afghanistan (Week 33), and Pakistan (Week 34, April 21-May 3).
* * * * *
Are you ready to discover some of the many regions of Asia and meet its people—and its animals—up close? Then join me on a Trade Route Safari! A lot of times when you hear the word "safari" it is talking about a hunting trip in Africa. But a safari is just a journey, going from one place to another.
Trade routes have been very important to people throughout history. One of the most famous trade routes was called the Silk Road. This was a way that merchants moved goods from China to the West, including places like Rome. The Silk Road stretched out more than 4,000 miles and went through numerous countries.
There were other famous trade routes in Asia, including the Spice Route and the Incense Road. The trade routes connected with each other in various places and provided a way to move goods almost anywhere you needed to take them.
It's important to realize, though, that these weren't roads like the interstates and highways we are used to today. Sometimes, the roads got moved! Two countries might go to war with each other, and you'd have to take a detour to get around the areas where there was fighting. Weather could also be a problem—roads might get washed out or covered in snow.
It's doubtful any one person ever traveled the entire way across Asia on the Silk Road. It was simply too long, too expensive, and too dangerous. But, one caravan would carry goods to one point, where another caravan would pick up the load and go farther.
We're going to go on a long journey to explore Asia. We're going to travel parts of the Silk Road, the Spice Route, and the Incense Road. We're also going to take some short detours to visit a few other countries along the way.
AS WITH ANY good trip, we'll need a tour guide. I'd like to introduce you to Safari Saeed (to say the name Saeed, say "sa" as in "saw" and "eed" so it rhymes with "seed"). He's about 12 years old and loves to share what he's learned about Asia. He'll help you meet the people (and blend in so they won't notice you), show you famous landmarks, tell you about the animals you encounter, and make sure you don't get lost.
But above all, Saeed has a favorite verse in the Bible that reminds him why he travels all over Asia. You've probably read it before: "For God so loved the world, that he gave his only begotten Son, that whosoever believeth in him should not perish, but have everlasting life." It's John 3:16, and it is also Saeed's mission. "For God so loved the world…" The world: all of it— from the steaming hot jungles to the snowy Himalaya mountains—God sent Jesus to save every person in every land.
As Saeed travels, he learns about the people in all the different countries who know about Jesus and who don't. He looks for ways he can help and ways he can pray.
If you're ready to get started on our Trade Route Safari, come along with Safari Saeed and join us for this week's lesson!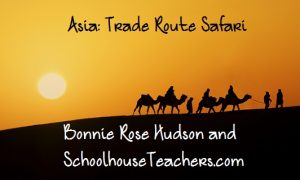 Note to parents: Each week's lesson includes a look at the people of the region, a writing or art assignment, spelling and vocabulary, geography, Safari science, a hands-on way to create a record of the journeys, and Friday Factoids (math and other worksheets). If you would like to share any of your student's Write It or Draw It activities with me, I would love to see what they create! You can e-mail me anytime at bhudson@theoldschoolhouse.com with your activities or simply ask a question.
I'm planning for this class to run ten months, through March 2014. Just below, I've placed where our journeys will take us for the next four months.
If you'd like to read more stories from Asia, check out my Modern Witnesses series on my blog for kids: Exploring with Jake.
If you want to take a look at our previous Asia class, Asia: Its Peoples and History, click here.
Bonnie Rose Hudson
Asia: Trade Route Safari
–Winter 2014 Schedule–
January 2014
Week 27: Kazakhstan (posted Jan. 2)
Week 28: Kyrgyzstan (posted Jan. 20)
February 2014
Week 29: Tajikistan (posted Feb. 10)
Week 30: Uzbekistan (posted Feb. 24)
Remaining Weeks in This Course, Through Spring 2014
Week 31: Turkmenistan (posted March 10)
Week 32: Iran (posts March 24)
Week 33: Afghanistan (posts April 7)
Week 34: Pakistan (posts April 21)
Week 35: India (Jammu and Kashmir) (posts May 5)
Week 36: China (Xinjiang province) (posts May 19)
Week 37: Mongolia (posts June 2)
Week 38: China (Gansu, Shaanxi, and Beijing) (posts June 16; end of course)
– Fall Schedule –
October 2013
Week 17: Kuwait
Week 18: Iraq
Week 19: Yemen
Week 20: Saudi Arabia
November 2013
Week 21: Jordan
Week 22: Israel
Week 23: Syria
December 2013
Week 24: Turkey
Week 25: Georgia
Week 26: Russia
– Earlier Weeks in the Course –
June 2013
Week 1: China (city of Guangzhou, province of Guangdong)
Week 2: Vietnam
Week 3: Brunei
Week 4: Malaysia
July 2013
Week 5: Indonesia (islands of Kalimantan and Sumatra)
Week 6: Singapore
Week 7: Thailand
Week 8: Burma
August 2013
Week 9: Bangladesh
Week 10-11: India (West Bengal, Orissa, Andhra Pradesh, and Tamil Nadu)
Week 12: Sri Lanka
September 2013
Week 13: Oman
Week 14: U.A.E.
Week 15: Qatar
Week 16: Bahrain
Class continues through March 2014 
Bonnie Rose Hudson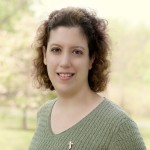 Bonnie Rose Hudson lives in central Pennsylvania with her mother and sister and works as an administrative assistant. Along with spending time with her family and writing, making kids smile is her favorite thing. Her heart's desire is for every child to feel the love of God and know how special they are to him. She loves being a member of The Old Schoolhouse ® Magazine's  Star Contributors Team and working as an editor and writer for SchoolhouseTeachers.com. At TOS, she found a place where her love of God and history combine with her love of writing to bring encouraging, educational, and entertaining material to students and their families. She would love for you to stop by her website at http://www.writebonnierose.com/.  You can also meet the star of her children's series at Exploring with Jake (http://writebonnierose.wordpress.com/) and share Jake's adventures and struggles.