Beth Gorden

Welcome to the New Sensory Learning for Toddlers Course at SchoolhouseTeachers.com!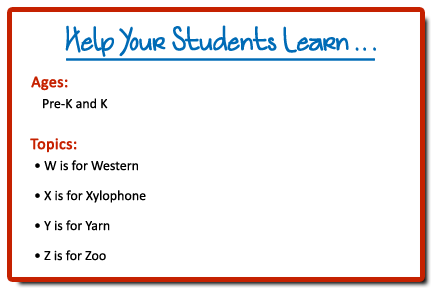 Playing and Learning My ABCs
Hands-On Weekly Lessons for Toddlers and Preschoolers from A to Z
This class is intended to help introduce your youngest learner to the world around them while having fun learning their ABCs.
The class will be 26 weeks long—one week for each letter of the alphabet. I've intentionally made it to accommodate both toddlers and preschoolers—for two reasons. First, as homeschoolers we don't always have the time to teach each child independently. Having more cooperative classes allows siblings to benefit from learning together. Secondly, each child develops at his or her own pace. Although it is tempting to compare, please realize that each child learns at his or her own pace. Some children do 50-piece puzzles at age 3, but can't put together a sentence. It usually works itself out.
Each week will be carefully laid out for you to minimize the amount of time you'll need to prepare—we all know homeschooling moms are BUSY! You can expect the class to take 30 to 60 minutes. I believe that play is crucial for young children to learn as they explore the world around them. These weekly lessons will be a springboard for your child's imagination. But for those who want to integrate additional worksheets, I will include links when available.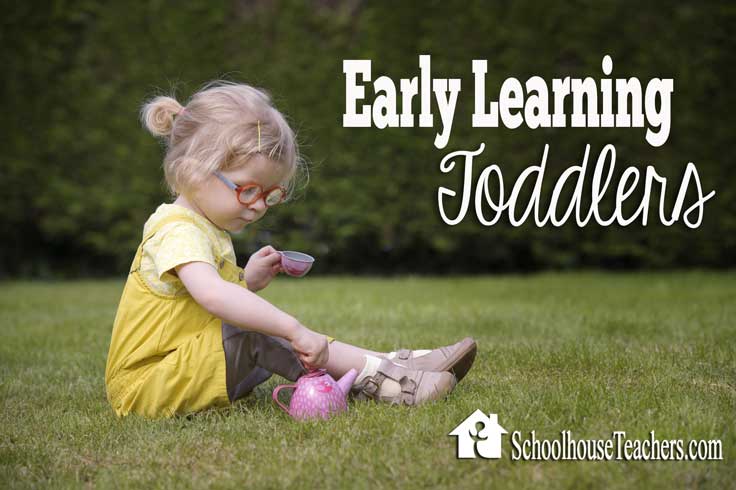 You can expect the weekly lessons to include:
Books
I will suggest five different books for each week. Presenting materials in a variety of formats is important for developing a good understanding, appreciation, and rich vocabulary. I highly suggest reading each book several times over the course of the week—this is important for pre-readers. You can choose to add a new book each day, or just read them all at various times over the course of the week.
Craft
There will be a weekly craft based on the theme. Crafts are not only fun, they're important for toddlers and preschoolers to strengthen their fine motor skills (necessary for writing).
Activities
I will always include an activity to allow these energetic learners to interact with the material. You will find lots of sensory exploration ideas as this stimulates different areas of their brain.
Math & Science
I will try to integrate early math and science skills throughout. Even at this early age, children can begin to grasp measurement and the scientific method. In your everyday interaction with your children, try to count objects, use terms like "greater than" or "fewer," allow them to help you measure as you cook, ask them to make a hypothesis of what will happen if they try something, and so on. Children are naturally curious and eager learners!
Language Arts
Children will be introduced to each letter of the alphabet. I suggest doing extra practice with preschoolers such as Uppercase Alphabet Color & Trace Sheets or Preschool Packs. Have them write their name on everything they do to practice their name, or if you need to write it for the toddlers, it helps them begin to realize that this is their name. Point out letters when you are out and about and go on letter hunts, but most of all read at least 5 books a day. Providing a language-rich environment is the key to their language, writing, and reading development.
Play
As I mentioned earlier, I believe children need lots of opportunities to play! By introducing new topics or ways of playing you can encourage their minds to grow and think critically. Make sure in this time you have set aside to be with your toddler or preschooler that you are playing too! I know many kids play well independently, and that's important. But make sure you are enjoying the privilege you have of playing with your child during this fleeting moment in time.
Additional Activities
I know not all activities are good fits for every family. Your child is unique—that's a good thing! These additional activities give you some choices or ways to expand your week if time allows.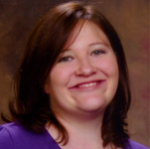 Beth Gorden is married to her best friend and has three children (ages 2, 5, and 8). Although she never planned to homeschool, now that her family has experienced the joy of homeschooling, Beth says she wouldn't have it any other way. Beth is passionate about making learning fun and is always dreaming up new ways to creatively engage her early learners.  
Beth has a B.A. in Psychology and Bible from Northwestern College. She has written Christmas Crafts for Kids and has created a variety of educational resources including: Reading the Easy Way: Preschool, Reading the Easy Way: Kindergarten, and Reading the Easy Way: 1st Grade to help kids master key sight words in a fun, hands-on way.
You can find Beth at 123 Homeschool 4 Me, where she writes about her family's homeschool journey, kids' crafts and activities, recipes, more than 150 free educational printables, and more to encourage and equip preschool and homeschool families.
You can connect with Beth on Facebook, Twitter, Google +, LinkedIn, and Pinterest.