Charlene Johnson
Welcome to Pre-Algebra on SchoolhouseTeachers.com!
How to Use This Course
Pre-Algebra, as presented by Charlene Johnson on SchoolhouseTeachers.com, is a full 40-week course. Each unit builds on previous lessons and so should be studied sequentially by the student to completely understand the topics. The course is structured so that the student can easily find the topics they may want to review while they are working through this class. The student will learn facts about a topic, how to expand on those facts and associate them with previously learned facts, how to apply these facts to real life, and review before moving on to the next topic. Each unit includes printable instructions, worksheets, and answer keys. As presented, if all units are completed, this course is equivalent to one year (two semesters) of a typical 8th grade (or earlier) Pre-Algebra course. Please check your state's academic requirements if information is required on a transcript.
Course Details
Course Introduction
This course is made up of ten month-long units which are each divided into four weekly lessons. Each month the topics will build on previous topics in a logical fashion so that, over the course of the next year, you can progress through a Pre-Algebra curriculum. The modules will also be designed so that you can pick and choose modules for review or extra emphasis on particular topics. The modules include topics such as Basics Review, Decimals, Fractions, Percents, Integers, Exponents, and Equations.
Each module will use the following format:
Week 1—Just the Facts
Week 2—Now What?
Week 3—Let's Apply
Week 4—What Did You Learn?
Week 1 will be designed to teach the facts about the new topic. Week 2 will help you expand on these facts and associate them with previously learned facts to gain an integrated approach to Algebra. Week 3 will help you learn to apply these new facts to real-world situations, and Week 4 will review to ensure you've gained a good understanding of the topic so that you can move on to the next.
Each lesson within the module will include a small section of instruction and a number of problems to work to practice this new skill. Occasionally I will include a "Fun with Math" lesson that won't necessarily be linked with the current topic, but will just be a fun math fact.
Components
Monthly units that build on previous lessons; all include printable instructions, worksheets, and answer keys
Length
10 months, 40 weekly lessons with daily practice worksheets
Ages/Grades
8th grade or earlier depending on your child's math needs
Course Outline
Unit One: Back to Basics
Unit Two: Fractions
Unit Three: Decimals
Unit Four: Percents
Unit Five: English and Metric Measures
Unit Six: Number Sets and Graphing
Unit Seven: Algebraic Expressions
Unit Eight: Solving Algebraic Equations
Unit Nine: Geometry
Unit Ten: Statistics and Probability
Transcript Information
If all 10 modules are completed as presented here at SchoolhouseTeachers.com, this course will be equivalent to one year (two semesters) of a typical Pre-Algebra course.
– Charlene Johnson
*Please be informed of your state's academic requirements. http://schoolhouseconnect.com/state-homeschool-laws/
For transcript help, go to http://schoolhouseteachers.com/2013/05/creating-a-transcript/
Download a Preview
For a preview of the Pre-Algebra class, click here.
Course Completion Certificates
Instant downloads of each month's lessons and worksheets are available. See the lesson pages for details. 
Find other great math resources, including E-Books, in our Focused Learning Centers.
*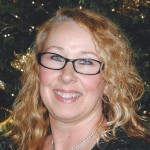 After twelve years of working for the government as a physicist, God blessed Charlene Johnson with three children and the opportunity to stay home with them. Charlene has homeschooled for ten years and will continue as long as the Lord allows. When she's not busy with her own homeschool, she also teaches math and science classes at a local Christian homeschool co-op and tutors middle school, high school, and college students. Several years ago she also started her own event planning and catering company, Elegant Experiences. .