How to Use This Course
Hands-On Architecture is a series of three units (Unit 1-Structures; Unit 2-Homes; Unit 3-Zoos). Each unit contains nine lessons that include suggested projects. Unit 1 includes three downloads: Lessons 1-10 (9 weeks and a bonus project), Step-by-Step Lesson Photos, and Student Projects. Unit 2 includes three downloads: Lessons 1-9, Teacher Examples, and Student Projects. Unit 3 includes two downloads: Lessons 1-9 and Student Work.
Printing the Step-by-Step Photos/Teacher Examples and Student Projects is optional; you may wish to have your students simply view them on the computer. Parents may want to consider not showing Mrs. G.'s student examples to their children until they try their hand at it first. That way, they can explore their individual ideas, but you know your children best!
Course Introduction
Hands-On-Architecture taught by Amy Gillispie (Mrs. G.) on SchoolhouseTeachers.com provides step-by-step architecture lessons in many different mediums for the lower elementary through middle school student. The nine lessons need to be followed in order for each course.  After finishing the first course, the second and third courses may be taken in any sequence.
Hands-On-Architecture Unit 1 will introduce students to exciting, easy-to-find materials they will use to make fun architectural structures.
Hands-On-Architecture Unit 2 will lead students through the design of their own HOME in nine lessons.  Students may use the materials from the first course or a medium of their choice. Minecraft, SketchUp, poster board, clay, and plastic building bricks are some materials that have been used in the past.
Hands-On-Architecture Unit 3 is a nine-lesson course that will lead students through the design of a ZOO!  Students may use a medium of their choice to model their zoo.
Unit 1, Unit 2, and Unit 3 each contain nine printable lessons along with step-by-step photos where needed and samples of prior student's work.
Unit One: Structures
Lesson One: The Point
Lesson Two: Lines
Lesson Three: Planes
Lesson Four: Volumes
Lesson Five: Plans, Sections, and Elevations
Lesson Six: Shapes in Architecture
Lesson Seven: Wood
Lesson Eight: Building with Food
Lesson Nine: Putting It All Together
Bonus Lesson: Additional Project Ideas
Unit Two: Homes
Lesson One: Getting Started/Kitchen and Dining Area
Lesson Two: The Family Room
Lesson Three: The Entrance Space
Lesson Four: The Schoolroom/Office
Lesson Five: Bathrooms/Laundry Room
Lesson Six: Bedrooms
Lesson Seven: Front and Back Yard Designs
Lesson Eight: What's Next?
Lesson Nine: The Last Step
Unit Three: Design Your Own Zoo
Lesson One: Entrance
Lesson Two: Australian Habitat
Lesson Three: Asian Habitat
Lesson Four: Antarctica Habitat
Lesson Five: European Habitat
Lesson Six: African Habitat
Lesson Seven: South American Habitat
Lesson Eight: North American Habitat
Lesson Nine: Final Project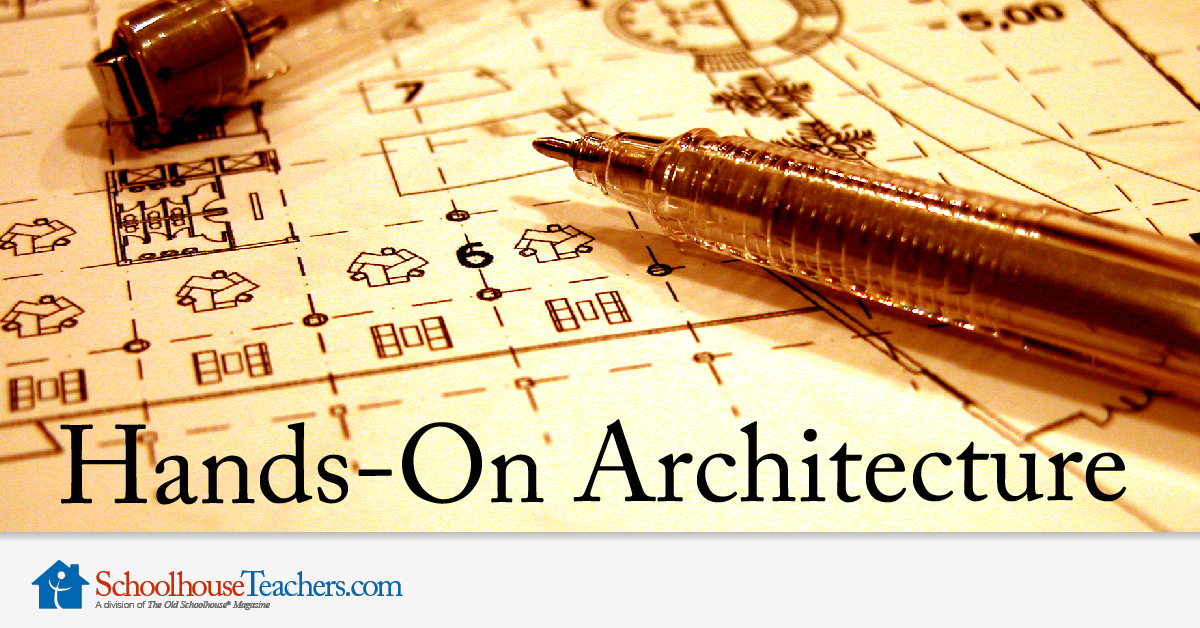 Would you like to tell others about this class? You can use our affiliate banner on your website, blog or even social network to tell your friends, family and contacts about this wonderful class. If you're an affiliate with SchoolhouseTeachers.com you can earn a commission every month for new members you send.
You can find out more about our affiliate program by clicking here.