Best Homeschool Math Curriculum
Looking for the Best Homeschool Math Curriculum? Look No Further!
Whether you are brand new to homeschooling or have been doing it for a while, choosing the best homeschool math curriculum for your children is one of the most important things you can do for their education. But you needn't waste precious hours on Internet searches when the homeschool math curriculum at SchoolhouseTeachers.com has everything you could possibly need—including flexibility, variety, and value.
Flexibility Makes It the Best Homeschool Math Curriculum
What could be more flexible than being able to pick and choose the courses you want for your children at the exact time they need them? SchoolhouseTeachers.com has programs from preschool to high school—from shapes and patterns to trigonometry and precalculus.
If your toddler is already showing an interest in the different sizes and shapes around him, you can start him in preschool math. Why wait until he's "preschool age"?
On the other hand, if you have a special needs learner who is having difficulty grasping a particular concept, you can repeat lessons at any grade level as many times as you want until she gets it. You're not locked into teaching certain subjects at certain grades.
And if a subject seems a bit too easy or too difficult, you can switch from one course to another, based on your children's educational needs. There are absolutely no limits to your flexibility.
Variety Makes It the Best Homeschool Math Curriculum
Because we offer courses for all grades and all levels, there is a wide variety of math courses found on SchoolhouseTeachers.com. From factors and fractions to formulas and functions, there are dozens of math courses from which to choose.
In addition, there are a variety of formats within each course. Some are text based, others video based, and some have a mixture of all of these. There are also a number of unit studies, which many homeschoolers find to be an easier and more enjoyable way of teaching subjects.
And if you're intimidated about teaching certain math courses, SchoolhouseTeachers.com also has a parent resource library full of courses, videos, and eBooks designed to help parents in their journey.
Value Makes It the Best Homeschool Math Curriculum
The value of SchoolhouseTeachers.com is unparalleled. Where else can you get not just math for every grade level and skill level, but 400+ other courses in all grade levels for one low price?
If you are homeschooling more than one child, you don't need to worry about having to pay additional fees for each child. Because at SchoolhouseTeachers.com, you pay just one membership price for the whole family. There are no per-child fees and no textbooks required!
In addition, your membership includes free homeschool lesson plans and access to World Book Online libraries, free of charge. Not only that, there are numerous tutorials on everything from choosing courses to recordkeeping.
Teaching Tools Make It the Best Homeschool Math Curriculum
All of this may sound wonderful—unless you're one of those parents who struggled with math when you were in school. Maybe you're thinking an online curriculum won't be able to equip you to teach something so intimidating.
That's one of the reasons SchoolhouseTeachers.com created the Math Center. This is where you have access to eBooks, videos, games, and other instructional resources to help teach such topics as addition, division, fractions, decimals, geometry, and more.
One frequently-used resource in the Math Center is How to Teach Elementary Math. Lesson designer Dr. Peter Price says his goal is to change the experience of millions of children (and parents) who currently find math boring or frustrating.
The videos give parents the best methods and strategies for teaching math, and worksheets for students are also provided.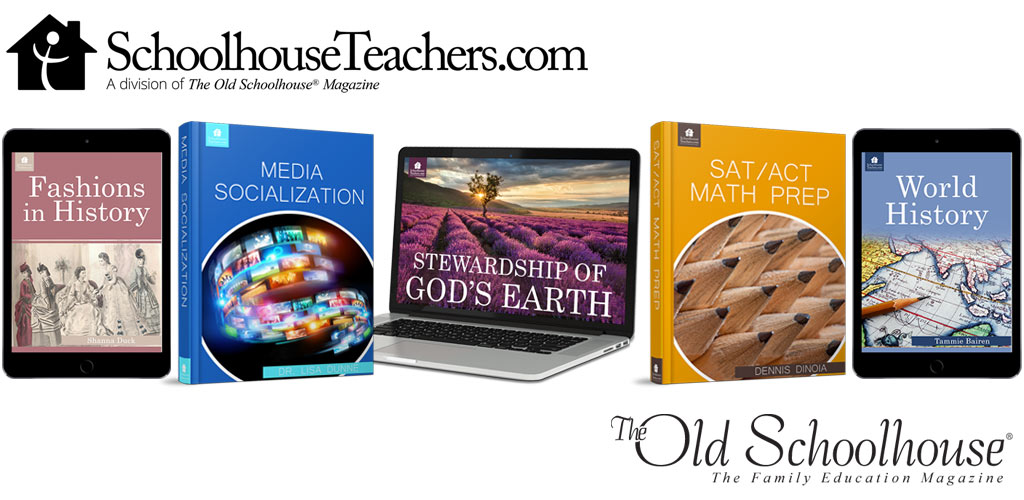 If your child is more of a hands-on learner, Kinetic Connections is for you. This is where you can find plenty of ideas, encouragement, and practical tips on how to teach your child in the learning style that suits them best.
Another great help is Finally Conquer Fractions, which is designed to equip you with the tools, resources, and motivation to teach your children with confidence. The course uses short videos with step-by-step instructions that will help you understand what fractions are, how they work, and how to teach them to your children.
And for those of you educating a child with special needs, the Special Needs resource is invaluable. You will have access to numerous articles offered by Special Needs Educational Consultant Judi Munday, who provides tips for modifying and adapting your teaching style to fit your child's learning style.
She also explains some of the ways children with special needs acquire, store, and retrieve information, which helps parents choose the best way to facilitate success in learning.
Courses Make It the Best Homeschool Math Curriculum
So now that you have an overview of how SchoolhouseTeachers.com helps parents, let's get into specifics about what makes our math program so spectacular. In addition to having so many courses, we offer fun and exciting ways to teach them.
Many parents start with Preschool Playground: Numbers, Patterns, and Cognitive Skills. This course includes a combination of structured worksheets and engaging activities to do at home, on the road, at the park, or anywhere else you'd like.
This course can be taught as part of the complete Preschool Playground curriculum or by itself.
Another popular math course for young learners is Building a Foundation with Kindergarten Math. Your little ones will learn about days of the week, months of the year, seasons, weather, number recognition, counting, skip counting, shapes, money, place value, and more.
And to keep it lively, there are plenty of hands-on activities and printable worksheets.
From there, many parents move on to Starting Out with First Grade Math. In this course, students begin building confidence in their mathematical abilities through printable assignments.
The lessons include greater than and less than, addition, subtraction, fact families, and more.
Once they start learning the basics, your children will love Everyday Games, a math program that helps make what could be a dry or difficult subject something they will really look forward to doing. The colorful and visually appealing games, which include puzzles and brain teasers, will challenge your children and really make them think.
And they are so enjoyable that your students won't even realize how much valuable information they're learning and retaining.

Another wonderful play-based teaching tool is Hands-On Math Help with Cuisenaire Rods. Through a free app and weekly videos, parents can learn to make math fun, not frustrating.
In the videos, Phil Rowlands gives parents detailed instructions in how to teach math using play, directed activities, open-ended tasks, and challenges. This method has been found to be especially effective with children of preschool age up to third grade.
If you and your children are prone to cabin fever, you'll love Let's Do Math Outside. Activities in this course include counting shapes while taking a nature walk, estimating the number of rocks in a jar, and going on a weights-and-measures scavenger hunt. This course gets high marks from students and parents alike.
Other elementary math courses include Stepping Up with Second Grade Math, Stretching Higher with Third Grade Math, Strengthening Skills with Fourth Grade Math, and Daily Math. Each of these courses teach key math skills that build upon the ones learned before.
Some of the lessons include place value, story problems, working with money, borrowing or regrouping, fractions, factors, area, perimeter, angles, and more.
Another important foundational math course is the Whole Numbers Place Value Workshop. In this course, your child will learn how to break whole numbers into expanded form to show the value of each digit.
They'll also gain understanding of rounding, comparing, and ordering whole numbers to the hundred millions place.
When working on their times tables, children can reinforce their learning using our Multiplication and Division Practice Unit. This unit uses an area model, or box model, to build conceptual understanding of multiplication. And the division problems in each lesson follow the same pattern, which gives students time to master each problem.
Introducing fractions to your children is easy with both the Fraction Workshop and Understanding Fractions Workshop. The Fraction Workshop teaches fractions using everyday items like toys, food, Popsicle sticks, and more. Lessons also include learning multiplication and division of fractions, followed by addition and subtraction of fractions.
The Understanding Fractions Workshop teaches fractions on a number line, simplifying fractions, equivalent fractions, comparing and ordering fractions through estimation and with like denominators, and by finding a common denominator. Students also learn how to convert mixed numbers to improper fractions and convert improper fractions to mixed numbers.
Teaching decimals is a snap with the Decimal Workshop. In this self-paced course, students apply their knowledge of place value with whole numbers and decimal numbers to the thousandth place.
They then learn to add, subtract, multiply, and divide decimals to the hundredth place, and learn to convert between decimals to fractions and vice versa.
Before you dive into higher math, you can get your feet wet with Algebra for Kids. This course, which was designed by a homeschooling father, introduces students to concepts they'll need for pre-algebra, algebra, and other high school math courses. It includes worksheets that give students the opportunity to practice skip counting and multiples.
Taking Algebra for Kids in elementary or early middle school is a good primer for when it's time for Pre-Algebra and Algebra 1 when they're a little older. Pre-Algebra includes subject matter like basics review, decimals, fractions, percentages, integers, exponents, and equations.
Algebra 1 has lessons in algebraic expressions, linear equations, graphing, inequalities, polynomials, factoring, exponential expressions, and more.
Other higher math courses include Geometry in Real Life, Algebra 2, Trigonometry, Statistics, and Precalculus. Students who make it all the way to Precalculus will come away with an understanding of relations and functions, conics, systems of equations, matrices, sequences, and more.
And for parents who are a bit intimidated or don't remember their high school math, answer keys are included.
No Common Core Makes It the Best Homeschool Math Curriculum
Many parents who pulled their children out of public school say they did so because of its Common Core curriculum. Critics like Dr. Duke Pesta say Common Core math is the worst thing that has ever happened to the math curriculum in grammar schools.
And recent research seems to give some credence to this. The 2016 ACT National Curriculum Survey finds gaps between some Core standards and what college instructors consider important for students to succeed.
None of the math courses at SchoolhouseTeachers.com align with Common Core. In fact, we believe our courses far exceed those standards, which can be confusing and even inappropriate.
We also feel that when you take away the unusual teaching methods and stressful tests associated with Common Core, children are able to work at their own pace and progress to their fullest potential.
SchoolhouseTeachers.com Members Say It's the Best Homeschool Math Curriculum
If you still need convincing that SchoolhouseTeachers.com has the best homeschool math curriculum, perhaps you need to hear firsthand from people who have used it. In a recent survey, members of SchoolhouseTeachers.com made the following comments as to why they preferred our curriculum to others:
You can pick and choose what you want for your child
The site offers a variety of subjects and courses, including many choices for each age
The staff and the site are warm and welcoming and share our goals
There are so many course choices to pick from
SchoolhouseTeachers.com gives parents what they need to homeschool
Where else do you pay a low price for the whole family?
SchoolhouseTeachers.com is firmly Christ centered, standing firm in the faith
Courses are designed for ease of access, simple to set up, and ready for you to teach
The people who work for SchoolhouseTeachers.com know how hard it is to homeschool and stand with you on this journey
Recommendations from industry leaders like Dr. Dobson and HSLDA
Each subject has a teacher who puts up brand-new content—some subjects monthly and many subjects more often than that
One of the first things I noticed is how clean and easy to read it is. The drop-down menus are awesome!
For a family looking for a budget-friendly curriculum choice, this is a great way to go
You can access hundreds of classes, books, videos, and experiments to help educate children of all ages and grade levels
In addition to getting high school course suggestions via the scope and sequence, SchoolhouseTeachers.com has an entire section all about homeschooling high school
SchoolhouseTeachers.com provides advice on awarding credit and weighting courses, creating transcripts, navigating the always-changing SAT and ACT tests, and finding scholarships
SchoolhouseTeachers.com has the best homeschool math curriculum
So what's stopping you? SchoolhouseTeachers.com has everything you need to teach homeschool math—and gives you the tools to do it in a fun, engaging, and effective way.
If you haven't yet joined SchoolhouseTeachers.com, come give us a try! It truly is the best homeschool math curriculum available. Check it out and see for yourself.