We have some special Easter-themed resources for your family to enjoy during this special season Here's a roundup of lessons and videos on the site. Be sure to check back as this list is going to GROW!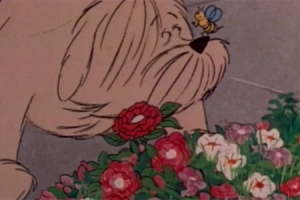 Easter Is: Benji must make a poster portraying the meaning of Easter. Frustrated for lack of good ideas, he pushes Waldo, his dog and pal, away. When Waldo later becomes lost, Benji's dad tells how the disciples thought they would never see Jesus again. In the end the good news of Easter is shared — that just as Waldo comes back to Benji on Easter morning, Jesus also returned! Due to licensing restrictions at this time, this video is only available to members in North America. (worksheet included)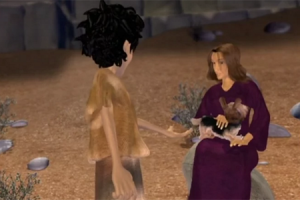 First Easter: Help your children (4-10) better understand the meaning and significance of the crucifixion and resurrection as they journey with young Nate as he searches for and encounters the risen Jesus Christ. This spectacular 3D animated DVD tells the story of Christ's sacrificial gift to mankind through the eyes of a child. (worksheet included)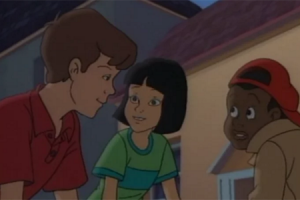 The Puzzle Club Easter Adventure: It's just a few days before Easter when Buzz comes to The Puzzle Club headquarters to ask for help finding his cat, then Buzz turns up missing too! Before Alex, Christopher, and Korina begin their latest case, Tobias becomes so ill he has to be rushed to the hospital and the detectives are torn between solving the mystery and staying by Tobias' side. Follow along as they learn an important lesson about hope in Jesus. Due to licensing restrictions at this time, this video is only available to members in North America. (worksheet included)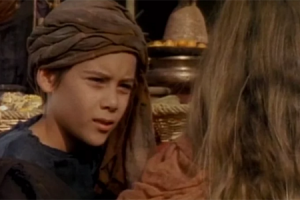 Magic Boy's Easter: Ten-year-old Josh suffers from a crippling bone disease. Whisked away to Biblical times in a dream, Josh encounters Lazarus and Joanna— both healed by Jesus. His dream ends as Christ, on His way to the cross, takes the time to heal Josh. Upon awakening from his dream, Josh consents to surgery, knowing Jesus will never leave him! Due to licensing restrictions at this time, this video is only available to members in North America.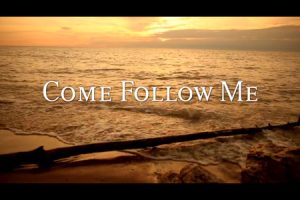 Come Follow Me: Come Follow Me explores what it means to be a disciple, a follower of Jesus by depicting scenes from the life of the Apostle Peter as he journeys with Jesus. Peter's story is full of misunderstanding, false pride, misplaced zeal, doubts, fears, and even denial. This short film traces Peter's rocky journey from the day he heard Jesus call his name to the post-resurrection conversation in which Jesus charges Peter to "feed my sheep." (worksheet included)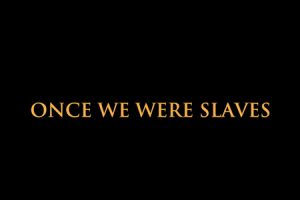 Once We Were Slaves (The Two Thieves): 2,000 years ago, two Jewish prisoners await their fate in a Jerusalem jail cell. One, a lifelong criminal and a rebel against the Roman occupation, is resigned to his death. The other, a lifelong rabbinical student and peacemaker, refuses to accept his fate. As the afternoon progresses, their history is revealed, a history that leads them to a shocking encounter with a mysterious man who changes their lives forever. (worksheet included)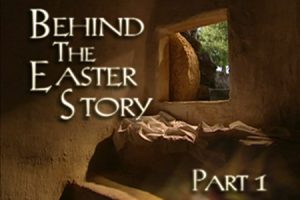 Behind the Easter Story: Join Mart DeHaan and Jimmy DeYoung as they retrace the footsteps of Jesus from His triumphal entry into Jerusalem on Palm Sunday to His victorious resurrection on Easter morning. Using a remarkable limestone scale model of ancient Jerusalem, you'll get a unique look at the city as it was 2,000 years ago. They'll also visit  historical locations in and around Jerusalem as you follow the path of Jesus step by step.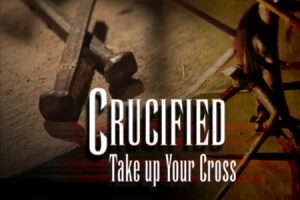 Crucified: Take Up Your Cross: Jesus entered Jerusalem on His way to the cross. The people of Jerusalem praised His coming; the Jewish religious leaders dreaded it. Many wondered if Jesus might be the Messiah—the one who would rescue them from Roman occupation. The religious leaders believed Jesus to be a threat to their power and sentenced Him to death on a cross. In what is often told as the story of the passion of the Christ, there is another lesson to be learned. Jesus wanted us to know that those who would identify with and follow Him would also take up their cross. (worksheet included)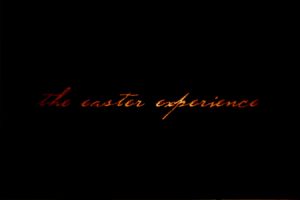 Easter Experience (six-part devotional series and feature movie):  What can we learn about our own life from studying His? Make Easter much more than just a holiday. Featuring dramatic story-telling with Biblical teaching from Kyle Idleman, The Easter Experience brings the passion and resurrection of Christ to life. (worksheet included)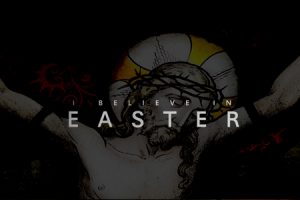 I Believe in Easter: Learn how the church adapted and transformed pagan tradition into the celebration of the Resurrection. See how culture, emperors, apostles and popes have influenced how we celebrate Easter today. (worksheet included)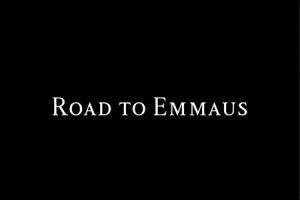 Road to Emmaus: It is a story that's captivated the imagination of many generations. Mourning the death of Jesus, two first-century travelers were joined by a mysterious stranger. Over the next few hours, the stranger revealed many mysteries that lay hidden in the ancient Scriptures. Soon, the purpose of Jesus' life became clear…and the travelers' sadness turned to great joy. Now you can learn what they learned. Discover the key to life…on the Road to Emmaus. (worksheet included)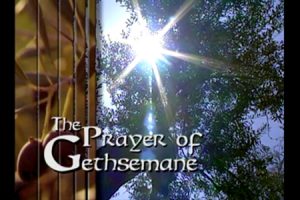 The Prayer of Gethsemane: On this Day of Discovery, visit the land of the Bible and one of the most well-known gardens in the world. We'll reflect on the agony and a prayer offered there almost 2,000 years ago—a prayer that has echoed from this garden through history. Discover "The Prayer of Gethsemane."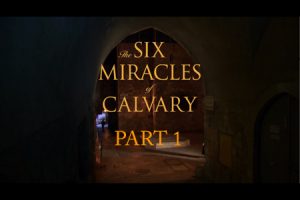 The Six Miracles of Calvary: Almost 2,000 years ago, extraordinary things happened at Calvary that modern science and human reasoning consider impossible. This program presents a historical and reflective view of the miraculous events surrounding the death and resurrection of Christ includes interviews with leading scholars and features singer-songwriter Shannon Wexelberg.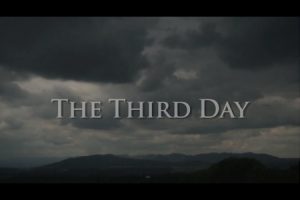 The Third Day: What proof do we have that the resurrection really happened? This intriguing documentary digs deep into the biblical and historical accounts and explores the main theories: Did the disciples steal the body? Did they hallucinate and only imagine they had met the risen Jesus or did they create a myth in order to keep the movement going? Scholars take a hard look and offer honest, thought-provoking answers. The Third Day is an excellent resource for both skeptics and believers alike.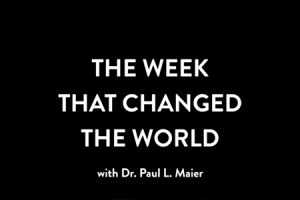 The Week That Changed The World: The resurrection happened. It's not just the belief of Christians, it's borne out by history, archaeology, and science. This documentary takes viewers step by step through the events of Holy Week—shedding light on the key players, unravelling the political intrigue, and answering longstanding questions about what happened, and why. Professor of ancient history and world-renowned expert Dr. Paul L. Maier details the story, along with maps, graphics, and remarkable dramatic re-creations to bring Holy Week alive in a whole new way. (worksheet included)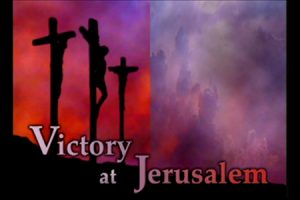 Victory at Jerusalem: Jesus Christ — arrested, betrayed, abandoned, spit upon, beaten, cursed, scourged and finally crucified. But that was only the beginning of the story. Three days later Jesus rose from the grave, just as he said he would. Discover the wonder, majesty and worship embodied in his sacrificial death and resurrection. It's sure to inspire you and your family. Travel back in time to visit, site by crucial site, the climactic last days of our Savior. The death and resurrection of Jesus Christ is not a story of defeat, but of victory! Victory over death for all of humanity.

Easter-Themed Lessons
Ascension of Christ by Benjamin West (5-day study)
The Last Supper by Leonardo da Vinci (5-day study)
The Crucifixion by Bartolomé Estebán Murillo (10-day study)
Betrayal of the King
The Risen King
(available in multiple languages)
Entire series
Year One, Lesson Twenty-Four
Easter
Easter Wings
The Bronze Bow by Elizabeth George Speare
Easter
Spring and Easter Teaching Opportunities