Download article in printable format
Learning Through Nature
"The heavens are telling of the glory of God; And their expanse is declaring the work of His hands" (Psalm 19:1).
God has put us in a glorious creation that we need to take advantage of as much as possible. Nature is all around us. All we need to do is stop and take notice. The days of homeschooling can be so demanding, especially as our children get older. Taking the time to study nature will benefit our children's lives more than we can imagine.
Cindy Rushton, in her book, Nature Study the Easy Way, puts it this way—"As I watched my children, I realized just how easy Nature Study really is. I did not have to prepare a lesson…God had already prepared the lessons of the day. I did not have to know any questions or any answers to the questions that were bubbling up from deep within my children. As they played, the lessons developed and were learned first-hand. I just sat back and enjoyed the fresh air…the cool breeze…and the excitement of learning from curiosity!" Wouldn't you love your day to be one like that?
We can make it happen by allowing God's creation to speak for Him. He will reveal Himself through the beauty and bounty of it. God has placed a natural curiosity inside each child. By allowing nature to seep into their very beings, they can reap the benefits of knowing more about God. But we need to take the time. We need to allow the time for your child to observe and enjoy everything around him.
Have you ever caught the scent of the lily-of-the-valley? Have you ever heard the calls that a chipmunk can make? Did you know that violets have heart-shaped leaves? Can you recognize the wild strawberry? Have you noticed a flock of birds in the sky? Entering into this beautiful creation will give us a look into God's handiwork. We need to be there.
Some of you may not even know where to begin. Looking out the window or stepping outside will begin the adventure of knowing more about nature around us. Trees, flowers, birds, insects, plants, and weather are there every day for you and your children to observe and learn from. You can even learn about the insects that find their way inside the house! Just take a look.
Where can you begin? A good place to start is with trees. Trees are even in most urban areas and easily lend themselves to a study in nature. Every season, the tree is changing into something different—something to be observed. Collecting leaves in the fall, and pressing them onto paper to frame, or putting them in a nature journal is only the beginning. By observing the leaves in any season, one can learn to identify the names of the trees. By choosing one tree to study through all the seasons, drawing its different phases and observing what is happening with that particular tree, can be of great interest to the younger and maybe even the older student. Trees, birds, weather—whatever you choose to begin with, allow it to expand your love for nature and God's world.
Using nature study in all areas of curriculum moves your study even further. The Bible tells us in Psalm 1:3, "And he will be like a tree firmly planted by the streams of water, which yields its fruit in its season, And its leaf does not wither; And in whatever he does, he prospers." God's word lends itself to nature study and can be integrated so easily in various passages you study or stories you read. God's Word speaks for itself, revealing him in creation. But what about other areas of curriculum?
Science is the obvious area where we can study nature. Collecting leaves, as we mentioned earlier, can be used in your biology study, the observation of seed development, photosynthesis in plants, observing the weather with making weather charts, predicting weather by the clouds, and charting temperatures are all areas of nature coinciding with science.
Keeping a nature journal is something I highly recommend for your nature study. We have been keeping our nature journals since my children were very small, and it is wonderful to look back and see their earliest drawings and what they have learned about nature through the years. When one book is full, we begin another—even through the teen years. Simply allow time for the child to observe anything in nature they would like, then have them draw that in their journal and write a small description that includes the name of the object in English and in Latin. It could even include a small Scripture verse, poem, or hymn that coincides with the drawing. Make it as simple or elaborate as you want or time allows.
How about the other areas of curriculum and nature study? Making a nature book or drawing pictures from nature could be the art lesson of the day. Checking out some beautiful art prints from nature is another wonderful way to combine the two. Planting a window sill garden or a garden outside gives physical activity and time for observation of nature. Your study of state history can be an in depth study of the State Bird, State Flower, and State Tree.
There are many great books of people interested in nature. By reading a biography of someone such as James Audobon, your child will appreciate birds and someone who has really learned to observe them carefully. Use your travel this summer for a nature book activity. When our family traveled to Alaska, we observed and drew pictures of all the flowers we could find growing in Alaska in June. What another wonderful keepsake we have with the names and pictures of flowers we don't ordinarily see in our southeastern US region!
There are so many, many ways one can observe nature more closely and really have fun doing it. Use your creativity to do something this summer and continue it into your next school year. Together, as a family, you can set up a nature table in your home—an area dedicated to wonderful finds to observe or add to your nature journal. Or, maybe on a clear night this summer, get out the sleeping bags and lay under the stars to do some glorious stargazing. As the hymn "All Things Bright and Beautiful" says,
"All things bright and beautiful,
All creatures great and small,
All things wise and wonderful,
The Lord God made them all."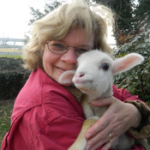 Julie Jeavons has been involved in music and education for 15 years, homeschooling her two children for 10 years. Besides trying to keep a clean home, she teaches piano and works as a farmer, raising sheep, llamas, chickens, and ducks, growing flowers, fruits and vegetables, and spinning fiber into yarns at Rose Lane Farm in southern Virginia.