Nancy Blue
Welcome to Beginning Violin on SchoolhouseTeachers.com!
How to Use This Course
Nancy Blue, a violin teacher and professional violinist, brings your students beginning violin lessons through SchoolhouseTeachers.com. The course starts with instruction on how to buy a violin and take care of it. It moves to tuning your violin, holding the violin, and learning the scales. From there, the course advances to playing simple songs, using many lessons to also instill a solid foundation in faith with the music the student is learning. The lessons should be followed in order, as the difficulty increases as the course advances. This course counts as a music elective credit. Students who complete all 31 lessons can earn 0.5 academic credit.
Course Details
Course Introduction
You are about to embark on an exciting journey! This concept of musical instruction is unique and promises to be a rich experience.
Playing the violin is an exciting adventure! Playing music that glorifies God is even more exciting! I would encourage you to be patient with yourself and persevere . . . it will be a blessing to you!
I primarily use the Suzuki violin method (a concept based on rote learning in the early stages in order to establish technique and listening skills). Children learn quickly how to produce a good tone and to experience the satisfaction of success on the instrument.
The focal point of this course is not only learning to play the instrument, but also a means of disciplining children in the Christian faith.
Based on the progressive development of technical skills used by Suzuki, this program uses praise songs and the great hymns of the church to achieve that goal.
Through the music, a solid foundation of the faith is taught. Music penetrates deeply into the mind and soul and is a powerful tool to establish the values that Jesus teaches. Studies have been done that show the importance of music throughout the Bible . . . especially the Psalms. God created music to bless us and to be used in worshiping Him. A high calling is to learn to play skillfully on an instrument and to serve God through that discipline.
I will first introduce you to the instrument and give you some tips on how to treat it kindly and care for it well—watch my welcome video.
It's important to begin with an instrument that has been adjusted well. It doesn't need to be expensive or of a professional quality by any means, but it does need to be easy for you to tune and set up well for playing ease.
As part of this course through these first few weeks, I'm giving you some recommendations regarding purchase or rental and instructions on how to measure for the appropriate-size violin. You will find the documents: "Read This," "How to Buy a Violin," and "I Have My New Violin" in the Week 1 lesson.
Tuning the instrument is very important (you will sound much better!). It takes some practice, so again I would ask you to be patient. You and your parent will watch my Week 1 video to learn how to tune!
You will very soon be ready to play!
I want to thank you in advance for taking this course. I would love to help your students continue their journey of learning to make beautiful music on the violin. If your student would like to continue taking lessons with me via Skype, please contact me at the email below. I would be happy to offer you a reduced rate as a SchoolhouseTeachers.com member.
You can reach me at fiddler10@msn.com.
Components
Video-based instruction with downloadable music sheets
Length
31 lessons with videos of varying lengths
Ages/Grades
Elementary-high school
Course Outline
Lesson 1: Introduction
Lesson 2: How to Tune Your Violin
Lesson 3: Applying Tape to the Fingerboard
Lesson 4: Holding the Violin
Lesson 5: A Major Scale – Up
Lesson 6: A Major Scale – Down
Lesson 7: Jesus Is My Savior
Lesson 8: Word Patterns
Lesson 9: Twinkle
Lesson 10: Jesus Is My Sa-vior
Lesson 11: Sing Praises—Shout Praises
Lesson 12: I Will Worship God through Music
Lesson 13: I Will—Sing Praises—Sing Praises—Sing Praises
Lesson 14: "Twinkle" Theme
Lesson 15: Mary Had a Little Lamb
Lesson 16: Mary Had a Little Lamb
Lesson 17: God Is So Good
Lesson 18: God Is So Good
Lesson 19: D String
Lesson 20: Twinkle: D String
Lesson 21: Mary Had a Little Lamb: D String
Lesson 22: God Is So Good: D String
Lesson 23: Twinkle
Lesson 24: "Twinkle" Theme
Lesson 25: Mary Had a Little Lamb
Lesson 26: Joy to the World
Lesson 27: Joy to the World
Lesson 28: Joy to the World
Lesson 29: Frere Jacques
Lesson 30: God Is Faithful
Lesson 31: God Is Faithful as a Round
Download a printable course outline here.
Transcript Information
This course counts as a music elective credit. Students who complete all 31 lessons can earn 0.5 academic credit.
* Please be informed of your state's academic requirements. http://schoolhouseconnect.com/state-homeschool-laws/
For transcript help, go to  http://schoolhouseteachers.com/2013/05/creating-a-transcript/
Course Completion Certificates
An instant download of the printable portion of all Violin (Beginning) lessons is available. See the top of the lesson page for details.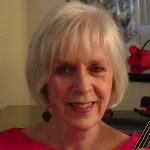 Nancy Blue received her Bachelor of Music Education degree from the University of Cincinnati, College-Conservatory of Music, and her Master of Music in Performance from Southern Illinois University.
She has had extensive teaching experience in both private and group settings. Some students have gone on to play professionally while many others have been enriched by the experience of playing the violin.
 She is the owner of Strings & Things Entertainment and plays professionally in the Orlando, Florida area. She is married to Randy, who is also a professional musician. Contact Nancy at fiddler10@msn.com.