Fun Homeschool Art Curriculum for All Ages
Whether your child is five or fifteen, has a passion for art or wants to observe without getting his hands dirty, you can select from more than a dozen art course options. The homeschool art curriculum at SchoolhouseTeachers.com offers something for every type of learner, for every season of the year, including: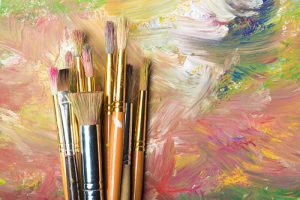 Art appreciation
Art history
Crafts
Digital art
Drawing
Elements of art
Famous artists
Painting
Unit studies
Do you prefer to dabble in a variety of art types and projects? Everyday Easels offers more than seventy-five unit studies for all ages, while Achieving Art Success with ArtAchieve is a video- and print-based homeschool art curriculum created to engage students in 1st through 12th grade—even the most "non-art" student in your family—by incorporating geography, history, literature, math, and science into the lessons. A variety of course options like Exploring the World of Art and Elementary Art, which includes interactive content, provide opportunities for your child to explore multiple art mediums and projects, including three-dimensional art.
Take your family's learning away from the table with Let's Do Art Outside. Projects include making a leaf owl, creating a "yarn bombing" masterpiece, taking the Land Art Challenge, and more. This course will have your children viewing nature in a whole new way!
Does your teen have a flair for digital design? Digital Art and Product Designs for Small Business can help her turn her hobby into a vocation. Or, he can explore vector graphic design through Inkscape Online Adventure. If traditional art media is more your teen's style, homeschool art curriculum such as Drawing with Realism and Studio Art for Teens can help her blossom. Discover tried-and-true techniques for improving the skills of teens at any artistic level by watching the short Art Tips with Jan Bower videos.
Art and history are inextricably intertwined. Include an art history course as part of your homeschool art curriculum to help your child discover those connections. A Century of Art and Art & History: Interconnected are two of the courses that examine the development of art through the lens of historical eras and events. Discovering Art History also introduces careers in different art forms, while Art: The Timeless Treasure includes an examination of architecture and design. A study of the history and culture of Africa wouldn't be complete without adding the Art Appreciation: South African Art units to your plan.
Are you looking for still more options to add to your homeschool art curriculum? Don't miss the SchoolhouseTeachers.com unit studies about artists, colors, Italian Renaissance, remarkable art. Plus, we have compiled a large list of art resources available through World Book Online, which is included with your SchoolhouseTeachers.com membership.