Jerry Jennings
Welcome to Guitar at SchoolhouseTeachers.com!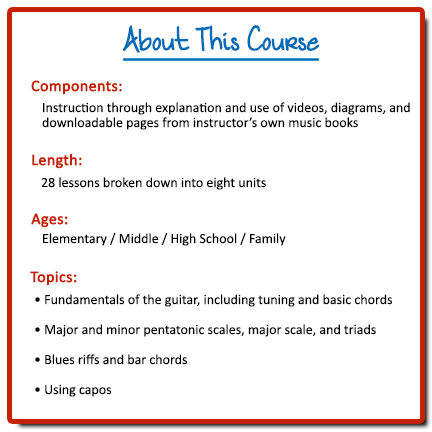 Are your children interested in learning how to play the guitar? They can join recording artist Jerry Jennings as he leads students through an introductory course that will enable them to play simple pieces by the time they are finished. He teaches the fundamentals of the guitar such as the individual parts and tuning, basic chords, the minor and major pentatonic scales, strumming, and picking. As the course progresses, he provides lessons that focus on more advanced topics such as blues riffs, triads, bar chords, and using capos. Through the use of videos, diagrams, and downloadable pages from his own books, your child is sure to develop a love for the guitar that will, hopefully, fuel a desire to build upon the basics.
A personal note from Jerry Jennings:
As you work through these lessons, I'm hoping you find it enjoyable. And most of all, I'm hoping that you receive the tools to continue playing. The biggest thrill for me is to find that one of my students becomes a performer or recording artist. Get a vision. Shoot high! Listen to a lot of music and try to learn it. Jam with friends. And feel free to do all the reviewing you need on our existing lessons.
Thanks,
J
Course Outline
Unit 1
Week 1 – Familiarize Yourself with the Guitar, Chords (G and D)
Week 2 – Chords (A Minor and C)
Week 3 – Natural Notes on the Neck
Unit 2
Week 2 – Minor Pentatonic Scale
Week 4 – A Chord, Pick-Strum Pattern
Unit 3
Week 1 – Review Minor Pentatonic Scale
Unit 4
Week 1 – Lesson for Sunny Side Up
Week 2 – Construction of a Major Scale
Unit 5
Week 1 – Return of the Pentatonic
Week 3 – Introducing Scales and Triads
Unit 6
Unit 7
Week 1 – Writing a Song with Chords in the Key of C
Week 3 – Using Capos—Super Fun Device
Week 4 – E Blues Strum Pattern
Unit 8
Week 2 – Diagonal Shape for the Minor Pentatonic
For a printable course outline, click here.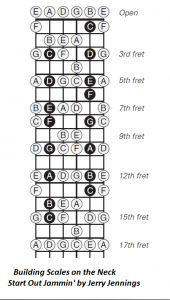 Feel free to check out my other music instruction books/cds/dvds
Guitar 1 Start Out Jammin' – Beginner Guitar (Book & DVD)
Classic Rock Rudiments for Lead Guitar – Learn to Play Lead Guitar! (Book & DVD)
The Guitarist's Link to Sight Reading – #1 Guide to Understanding Guitar Studio Charts
The Bassist's Link to Sight Reading – #1 Guide to Understanding Bass Studio Charts
The Drummer's Link to Sight Reading – #1 Guide to Understanding Drum Studio Charts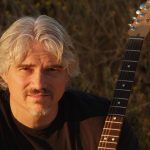 Jerry Jennings is a recording artist, performer, teacher, and the author of five instructional books. He has taught private lessons, group lessons, and workshops since 1987. Jerry's passion in life is making the best possible music and empowering others to do the same. His education includes an Associated Arts degree in music at American River College and additional composition courses at Cal State University-Sacramento.
Jerry and his wife Jane have been homeschooling their daughter Julia for seven years. In the nineties, Jerry began playing in churches, which led his family into a Christian life. There is a tightrope to walk in teaching young people to "rock out" while not leading them down the wrong path, but Jerry makes it work.