Kimm Bellotto
"I Wandered Lonely As a Cloud"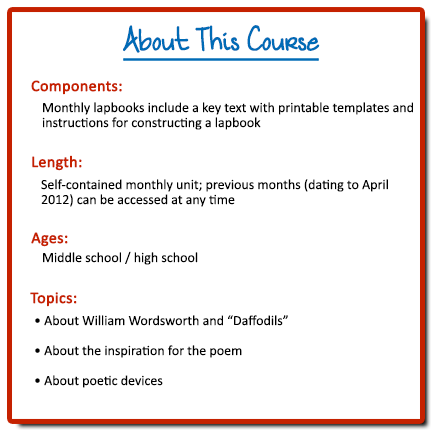 This month I am offering up a short lapbook unit geared for your high school level students. It takes a quick look at the poem I Wandered Lonely as a Cloud (aka Daffodils) by William Wordsworth. Concepts that your student needs to know are themes, alliteration, personification, simile, metaphor, and hyperbole.
This beautiful little poem may be based on Wordworth's own recollections, but the poet also credits a rich and vivid diary entry by his sister, Dorothy, with who he shared this memory.
Two years before the poem was written and five years before it was published in 1807, Dorothy wrote the following journal entry:
"15 April 1802
When we were in the woods beyond Gowbarrow park we saw a few daffodils close to the water side. We fancied that the lake had floated the seeds ashore, and that the little colony had so sprung up. But as we went along there were more and yet more and at last under the boughs of the trees, we saw that there was a long belt of them along the shore, about the breadth of a country turnpike road. I never saw daffodils so beautiful they grew among the mossy stones as on a pillow for weariness and the rest tossed and reeled and danced and seemed as if they verily laughed with the wind that blew upon them over the lake, they looked so gay ever glancing ever changing. This wind blew directly over the lake to them. There was here and there a little knot and a few stragglers a few yards higher up but they were so few as not to disturb the simplicity and unity and life of that one busy highway. We rested again and again."
Memories, whether recalled through thought or written down, led the poet to write these now famous verses. It's a wonderful little piece to add to your poetry lessons and it is easily completed in just a day or two.
Don't forget to also check out Janice Campbell's writing unit about "Daffodils."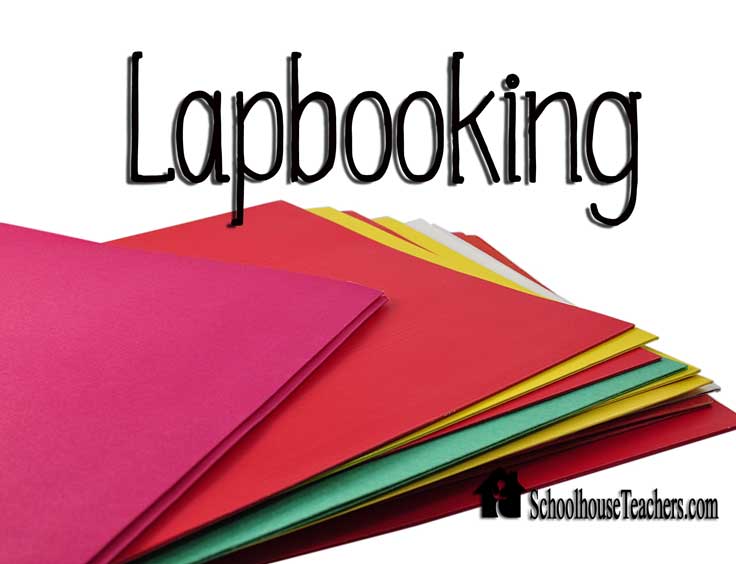 To get to know us better and to get in on unadvertised specials, free goodies, giveaways, and more come check us out on Facebook, "like" our page, and post a little intro. We'd love to "meet" you!
http://www.facebook.com/HOAC.Lapbooks
If you need any help as you go through this study, please send me an email at Info@HandsofaChild.com and put TOS-KIMM in the subject line.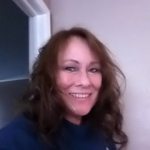 Kimm Bellotto and Niki McNeil met through an online homeschool group. While chatting, they discovered they both loved lapbooks and were looking for an easier way for homeschooling moms to pull together the necessary items for a lapbook. Those chats soon became a business plan, and the two ladies quietly "set-up shop" on the web, becoming the first company to sell ready-to-use lapbook kits. With Niki's innovative ideas and Kimm's creative graphics abilities, the two moms published their first unit, titled "Plants," in November 2002. Two years later, talented writer/researcher Katie Kubesh joined the team and the company came into full bloom.  In the Hands of a Child wants to make hands-on learning easy and readily attainable for every child and for every mom!  With over 400 lapbook titles to choose from and a growing line of notebooking units, they offer something for everyone regardless of age or ability.