Adam Andrews
Welcome to the SchoolhouseTeachers.com Literature Class
January Lessons
Study The Last Battle by C.S. Lewis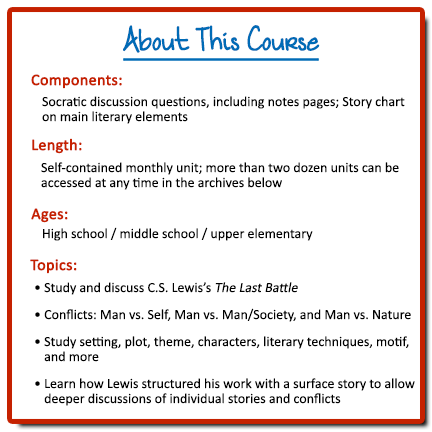 In this space, I am sharing some powerful techniques for reading comprehension and literary analysis that you can use with students of all ages, from kindergarten through high school. From month to month we are looking at a variety of great books—some written for adults, some for the smallest children—and showing how the same key questions can be asked of each one. Using these questions, you can lead a powerful discussion in your home or classroom almost automatically. You'll be amazed at the results!
The lessons posted here are not designed to be used by the student as daily worksheets; rather, they are created to facilitate periodic (weekly or even daily) discussions between teacher and student. It's this simple:
First, the student reads the assigned title (listed below) over the course of several days or weeks.
Then, teacher and student meet together to discuss the story, using the questions provided in this month's lesson as a guide.
* * *
Our January 2015 lesson takes readers through the last book in C.S. Lewis's Narnia Chronicles, The Last Battle. Pick up a copy at your local library, bookstore, or order one from many online retailers. Read the story with your child(ren). Then answer questions for Socratic Discussion based on plot, setting, characters, conflict, themes, literary devices, and more. You'll learn about the conflicts of Man vs. Man, Man vs. Self, Man vs. God, and Man vs. Nature. Enjoy the discussion!
Course note regarding the provided story charts: Adam is providing a blank story chart with his lessons this fall. He cautions parents that while the charts are helpful for organization and capturing the main elements, they are not to be used as assignments in a strict sense, or subjected to rigid grading. Instead, the idea is to plot the main elements, leading to open discussion on the work and a chance to interact with the story as a complete work of art.
* * *
If you're looking for worksheets, beware: fill-in-the-blank exercises may actually hinder a student from understanding literature! The goal of literary analysis is to interact with a story as a complete work of art, to understand its themes and carry on a "conversation" with its author. At The Center for Literature, we have found that worksheets rarely contribute to such understanding. On the contrary, they often bore and frustrate even the most willing students. After you and your students have read the book, click to go inside for this month's lessons in weekly sections. Happy Reading! Mr. A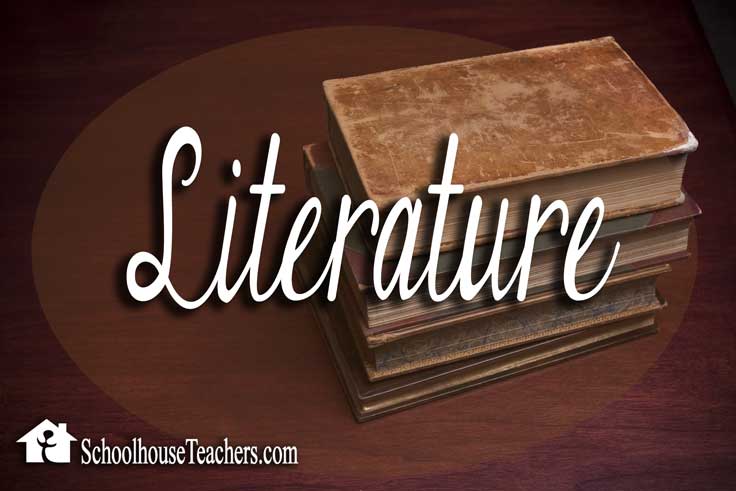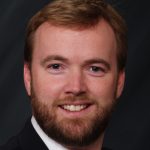 Adam Andrews is the Director of the Center for Literary Education, www.centerforlit.com. He received his BA in Political Economy and Christian Studies from Hillsdale College in 1991. He earned his MA in History from the University of Washington in 1994, and is currently a candidate for the PhD in History. He is writing his doctoral dissertation on the history of American higher education. Adam is a Henry Salvatori Fellow of the Intercollegiate Studies Institute, and was a founding board member of Westover Academy, a Classical Christian school in Colville, Washington until 2007. He is the assistant director of the American Council for Accredited Certification, a non-profit professional certifying body.