Greg Shone
Welcome to the French Essentials Lesson!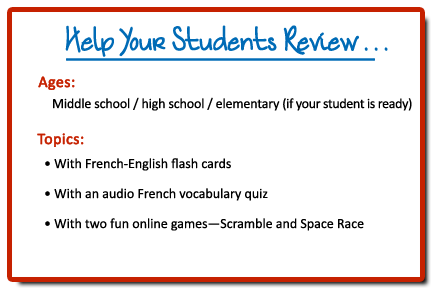 Dear students & parents,
For the months of March and April, we will review Lessons 4-20 of the lessons you have done this year.
Once you open the quiz, you can proceed as follows:
1. First, to hide the Google advertising, click the button in the top left hand corner of the quiz to go to Full SCREEN MODE.
2. Review the words and phrases below the flash cards. (English on one side, French on the other)
(The button to the right of the Full Screen Button will enable the AUDIO.)
3. Do the flash cards (uncheck "both sides" and then start the exercise).
4. Do one or both of the two games, scatter and/or space race.
5. Do either Learn Mode or Speller.
6. Do the test. It offers 4 options for evaluation. Check the options you prefer (matching, true/false etc.) and click reconfigure.
Bonne Chance!
M. Shone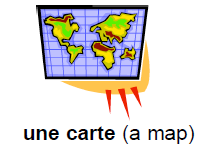 There are a few things your computer needs in order to open and use the lesson, once downloaded. First you will need Adobe Reader 9 or 10. Second, if you are using a Windows-based computer you may need QuickTime for Windows. This is explained in Getting Started below.
Have a wonderful homeschool year and Bonne Chance! as you start your French lessons!
Monsieur Shone
IMPORTANT: If you are using a PC with windows and are using Adobe Reader v. 10 (X) you will also need to download QuickTime for Windows. If you don't already have it, you can download it at http://support.apple.com/kb/DL837. Without QT you will be unable to hear the audio. If you already have QuickTime installed you will need to update it to version 7.7.Go to: http://support.apple.com/kb/DL837. If you already have Adobe Reader v. 9, then everything should work just fine.
If you have a Mac computer, then everything should work fine in Adobe Reader 9 and 10. (Some problems were reported with Mac users and v. 9.5. If you have upgraded recently to this version, you will need to install version X.)
One last note: The first time you click a word or phrase, your Acrobat Reader will open a dialogue box that will ask you if you want to trust the document. You must allow your reader to trust the file or you will not be able to hear the audio.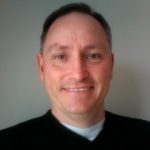 Greg Shone holds a BA History, a BA French, and is a certified teacher. He started his teaching career as a French teacher in both public and Christian schools and later combined his love for History and French by teaching French and Social Studies in a French immersion school. His relationship with the homeschool community began in 1994 as a private French tutor and culminated in August 2012 with the launch of French Essentials, a downloadable French program for the homeschool. He and his wife, also a teacher and coauthor of French Essentials, have two children and have live in beautiful, historic Quebec City.
For additional info regarding learning French with French Essentials, please visit us at www.frenchessentials.com.
(Note to Parents or instructors: Always help your students navigate on sites like YouTube. SchoolhouseTeachers.com does not endorse YouTube.com, but we do allow our Teachers to point to instructional videos on the site.)