Carol Topp
Welcome to the SchoolhouseTeachers.com Lessons on Career Exploration and Micro Business for Teens!
Carol Topp's Career Exploration class is complete, beginning with this page. Carol also taught a Micro Business for Teens class at SchoolhouseTeachers.com. We hope you enjoyed and benefited from theses classes. Both remain archived on the site for you to reuse or review at any time. (The course outline for the Micro Business for Teens class is listed below the Career Exploration lessons.) Our thanks to Carol for two great courses at SchoolhouseTeachers.com! – Ed.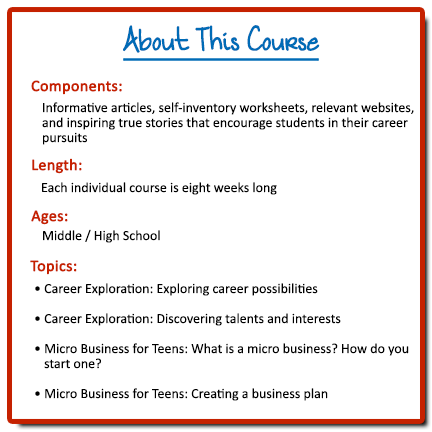 Hello!
My name is Carol Topp, and welcome to this eight-week lesson on career exploration! The goal of career exploration is to learn a process of discovery and research to make a decision on a career path or a college major to pursue. At the end of this eight-week class, a student may not know what he or she would like to be "when they grow up," but they will know what direction to take for the next step in life.
No one knows the future, so don't expect your teenager to have their entire adult life figured out as a high school student. All they need to do now is to try and get an idea of what the next phase of life might hold.
Many adults change careers and hold several different jobs over their working career. The same will probably be true for you.
I've had these careers as an adult:
Industrial engineer
Cost analyst
Church treasurer
Nonprofit consultant
Bookkeeper
Accounting software trainer
Certified Public Accountant (CPA)
Author
Public speaker
High school teacher
See what I mean? Lots of careers. I never knew what would be coming next, but I tried to use the skills I was learning in each job for whatever came next.
I'm an author, accountant, and a retired homeschool mother. I homeschooled both of my daughters for fourteen years, all the way through high school. They are now both pursuing the next phase in their lives. I transitioned from being a homeschool mom to being a business owner by using my accounting education and homeschool experience to help homeschool leaders though my website, HomeschoolCPA.com. I also enjoy helping teenagers start a microbusiness through my books and website, MicroBusinessForTeens.com.
I developed these career exploration lessons from a class I taught at my homeschool co-op. I hope your students learn a lot about themselves and begin to think about some possible careers in the upcoming weeks.
Course Outline for Career Exploration Class
Week 1 – Decision Making and Discerning God's Will
Week 2 – The Career Exploration Process
Week 3 – Individual Inventory of Your Talents and Interests
Week 4 – Personality Tests
Week 5 – Career Clusters
Week 6 – Starting a List of Possible Careers
Week 7 – Collecting Facts and Data
Week 8 – Interviewing and Shadowing
For a printable course outline for Career Exploration, click here.
Course Outline for Starting a Micro Business for Teens:
Lesson 1 – What is a micro business and what can you learn from starting one?
Lesson 2 – Getting an Idea—Using Your Skills and Talents
Lesson 3 – Getting an Idea—Brainstorming
Lesson 4 – Narrowing your Idea
Lesson 5 – Business Plan: Concept
Lesson 6 – Business Plan: Marketing
Lesson 7 – Business Plan: Financial
Lesson 8 – Business Plan: Feedback
For a printable course outline for Micro Business for Teens, click here.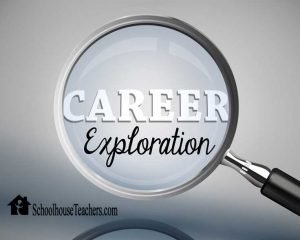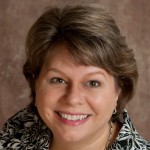 Carol Topp, CPA (CarolToppCPA.com and HomeschoolCPA.com), is an author and accountant specializing in helping homeschool   organizations and microbusiness owners. She is the author of several books, including the Micro Business for Teenagers series and Homeschool Co-ops: How to Start Them, Run Them and Not Burn Out. She runs a home-based accounting practice specializing in tax preparation, small/micro business accounting, and nonprofit accounting. Carol has presented numerous workshops on money management, business start-up, taxes, budgeting, nonprofit management and homeschooling to various community, church, and homeschool groups. She lives in Cincinnati, Ohio with her husband and two daughters, both homeschool graduates.