Denise Ames
Welcome to the 2014 College Choice Guidance Lessons
* * * * *  
SchoolhouseTeachers.com members: College Choice Guidance Teacher Denise Ames will be returning full-time to her organization and has ended her offerings at SchoolhouseTeachers.com. We greatly appreciate Denise's partnership and lessons! You can access more than 18 months of College Choice Guidance lessons at the Archived Lessons link below—insight such as finding your passion, key scholarship information, studying root words (which helps with test-taking), brain-expanders, and much, much more! — Eds.
* * * * *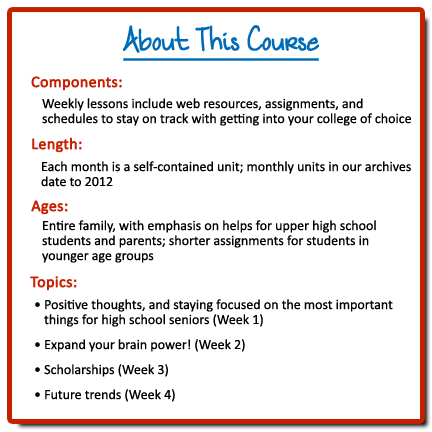 Dear friends,
May is here and the Spring 2014 semester is almost over. All that is left are the final exams and graduation programs. The college atmosphere is just as crazy as high school. That is why we do things early so we can enjoy this time of year . . . as best as possible.
If you have a senior, hopefully you and your child have committed to a college for next year. Now you need to get all your financing in place to pay for next year. We've been talking about this all year, so you should be prepared. Follow the directions your college gives you for their individual programs.
As I've mentioned before, my company, College Common Sense, has reached its five-year point. (http://www.collegecommonsense.com/) I hope you review my website; consider the online subscription to my DVD and workbook. This is the core of my business and what allows me to offer these lesson plans for free.
If you would like to read what others have said about my DVD, here are some reviews to consider: http://www.linkytools.com/wordpress_list.aspx?id=177888&type=thumbnail&AspxAutoDetectCookieSupport=1
I hope that I've helped you understand this process better and that you enjoy this journey with your child!
Sincerely,
Denise Ames
College Common Sense
http://www.collegecommonsense.com/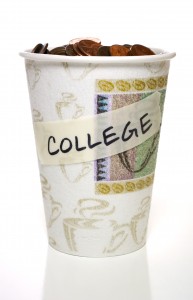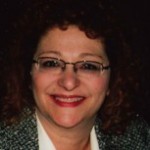 My name is Denise Ames and I've been a Financial Aid counselor at a small private university in the Texas hill country for the last 10 years.  I've talked to thousands of families over the years and helped them through this process.  A student doesn't have to feel they are totally dependent on the college to give them free money.  This is not rocket science – it's just never explained in a clear, concise, easy to understand manner.  I explain the "Big Picture" and everyone's responsibility so people can focus on what they can accomplish.  I started this business, College Common Sense (www.collegecommonsense.com) as a way to reach more families to explain the processes I've developed over the years.  I would like to help you and your students too.