George Escobar
Welcome to the Young Filmmakers Series on SchoolhouseTeachers.com!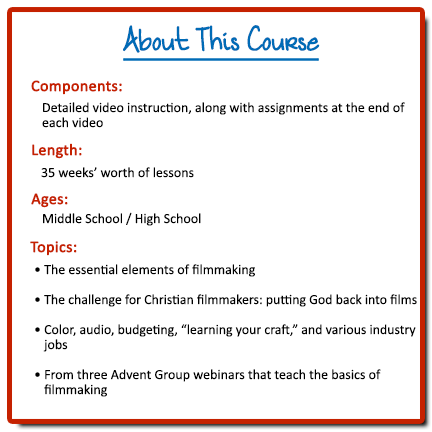 Course Introduction
Note: George is willing to field your questions on his course or the weekly assignments. To send a question or one or more of your answers to George for review, please write to: bhudson@theoldschoolhouse.com. The editorial team will ensure that your questions or answers get to George! – Eds.
Advent Film Group's cofounder, George Escobar, is presenting a 30-part narrated series of short lessons for young filmmakers. Each weekly lesson encapsulates basic but core information about different aspects of filmmaking. Topics will include story structure, screenwriting, casting, and the many elements of film production, including prep and post-production editing. Other topics will cover sales, marketing, distribution, evaluating film equipment, and career planning.
Following each lesson, a brief assignment or exercise is given to reinforce key points of the subject matter. Links to online film tools or video clips will also be provided to expand or facilitate the lesson.
Advent Film Group is an independent film production and distribution company established to create excellent Christian films by raising up excellent Christian filmmakers. Advent is committed to creating entertaining films that are good for families and that affirm biblical values and principles.
In addition to making entertaining films with powerful messages, Advent is organized around the idea of training the next generation of Christian filmmakers by providing high school students, college students, and adults with hands-on exposure and experience in filmmaking. By making movies that utilize students' skills and passions, Advent seeks to inspire them to serve God in this crucial message-making and culture-shaping field.
The first opportunity was with Come What May, as 40 students participated in all aspects of the film—from pre-production to filming to post-production to marketing. Since 2007, Advent has produced four feature films and one documentary.
Advent also has held film workshops across the country, some with more than 600 students. From these workshop attendees, nearly 120 aspiring filmmakers were selected to received hands-on training on Advent film sets, with more than thirty  of them holding long-term internships at Advent's offices in Purcellville, Virginia.
With its vision, Advent Film Group looks to serve and honor God by:
Awakening and germinating vocational filmmaking seeds God has placed in the hearts of many young people.
Building long-term relationships with these young filmmakers, nurturing and encouraging them to grow in their skill and their focus on God's vision for their work.
Helping seed and establish young people in the field of filmmaking.
Advent Film Group's goal is that within two generations a new crop of well-trained storytellers committed to Christ will be leading major studio productions of faithful, fruitful, God-affirming films.
Learn more at AdventFilmGroup.com.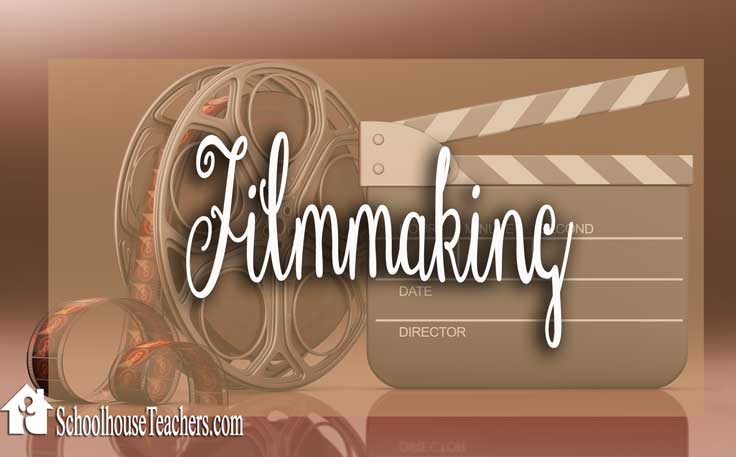 Here is your course syllabus from George Escobar and Advent Film Group.
SchoolhouseTeachers.com note: George provided bonus webinar material as part of this course. These one-hour sessions were taped at Advent Film Group's fall 2012 national webinar: "Christian Filmmaking: Providing a Competitive Alternative to Hollywood." These three lessons are outlined below (Weeks 12, 13, and 14).
* * * * *
Course Outline
Lesson 1, Part 1: Discovering God's Stories
Lesson 1, Part 2: Discovering God's Stories
Lesson 2: Basic Story Structure
Lesson 3: Introduction to Screenplay Format (How to Write a Screenplay)
Lesson 4: Casting Basics
Lesson 5: Meet the Crew
Lesson 6: Script-to-Screen
Lesson 7: Choosing a Camera
Lesson 8: Principles of Composition
Lesson 9: Image Resolution
Lesson 10, Part 1: Part 1: Lighting
Lesson 10, Part 2: Lighting
Lesson 11, Part 1: Basic Audio
Lesson 11, Part 2: Basic Audio: Gear for Location Recording
Lesson 12: Christian Filmmaking: Providing a Competitive Alternative to Hollywood (webinar), Part 1: "Making a Micro Budget Film—'The Screenwriters.'"
Lesson 13: Christian Filmmaking: Providing a Competitive Alternative to Hollywood (webinar), Part 2: "Every Dad Can Be a Hero: Movies Really Do Matter."
Lesson 14: Christian Filmmaking: Providing a Competitive Alternative to Hollywood (webina, Part 3: "The Power of Documentaries."
Lesson 15: Audio Recording
Lesson 16: Color Theory: An Introduction
Lesson 17: Post-Production
Lesson 18: Introduction to Color Grading
Lesson 19: Introduction to Audio Sweetening
Lesson 20: Distribution Methods
Lesson 21: Forming an LLC
Lesson 22: Micro-Budget to No-Budget Filmmaking
Lesson 23: Learning Your Craft
Lesson 24: Career Facet: Production Assistant
Lesson 25: Career Facet: Producer
Lesson 26: Career Facet: Director
Lesson 27: Career Facet: Line Director/Unit Production Manager
Lesson 28: Career Facet: Assistant Director
Lesson 29: Career Facet: Cinematographer/Director of Photography
Lesson 30: Career Facet: Film Editor
Lesson 31: Planning Your Education and Career
Download a printable course outline here.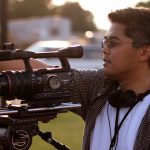 George Escobar, Director/Producer/Co-Writer, is co-founder of Advent Film Group (AFG), which produced Come What May, and the upcoming films Hero and The Screenwriters. He is the co-writer and co-director of Alone Yet Not Alone and director of The Isaiah 9:10 Judgment. He has more than 25 years of experience in film, television, and interactive media. Before cofounding Advent, George was Vice President of Product Development for Discovery Channel, Executive Director for AOL/Time Warner, and is a former Producing Fellow from the American Film Institute's Center for Advanced Film and Television Studies. He holds seven U.S. patents in technology and user-interface design.
 In his career, George has worked for top executives in the industry, including Howard Stringer (Sony CEO), Sandy Grushow and David Grant (Fox), Kit Laybourne (TELE-TV), and Kim Friedman (TV director).
George and his wife homeschooled their three sons in northern Virginia.