Kurt Hoffman
Welcome to Social Justice on SchoolhouseTeachers.com!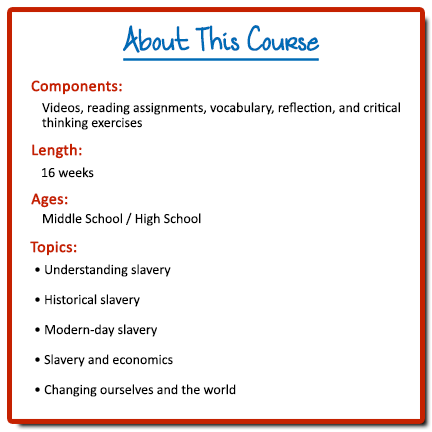 Caution: This class might blow your mind!
A few years ago, I learned there are more slaves in the world today than ever before in human history. So, shocked to hear this, I decided to study hard and write my first book on the issue. It is called Young Heroes: A Learner's Guide to Changing the World (Abolish Slavery Edition).
It is designed to educate, enlighten, and empower young people to become modern-day abolitionists. Young Heroes educates its readers on the issue of modern-day slavery and human trafficking and how it's like and different from historical slavery; enlightens its readers by getting them to think critically about exactly how humans are equal and why slavery is wrong (being such a huge problem, a lot of people obviously don't think it is!); and empowers its readers to know, develop, and serve others with their talents towards the abolishment of modern-day slavery.
Side-effect takeaways include: a greater understanding and love for knowledge; a more robust understanding of what it means to be a human and how we are called to love others as ourselves; a knowledge of one's unique talents and how to develop them; an understanding of one's true potential; and a deeper understanding of worldviews, including one's personal worldview.
A Quick Note to Parents: Due to the sensitive nature of this topic, please be aware all students will face some difficult realities and will be challenged to examine their beliefs on some important issues. Thus, we highly encourage you to make sure this content is suitable for your teens and to engage with them as they go through this class! The most challenging areas of content include:
The reality and methods of modern-day slavery, including sex slavery and the global sex trade (Please note: the discussions are kept academic in nature; there are no graphic pictures or anything extremely detailed or unnecessarily explicit.)
How the roots of modern-day slavery manifest themselves in popular culture and youth culture
The necessity for young people, especially professing theists and Christians, to prove humans are fundamentally equal and valuable and how slavery is universally wrong
The need for young people to examine their beliefs and values in the pursuit of knowing and understanding truth
To learn more about my book and its methods please see the following links: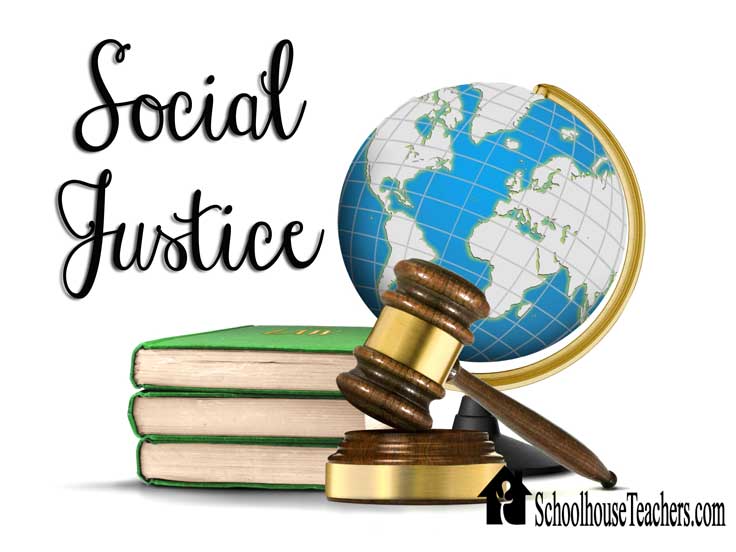 Course Outline:
Taken directly from the book, each chapter includes a range of exercises including Q & A, vocabulary, journaling, self-examination evaluations, and online, media-based assignments. Introducing the chapters, I will include a unique set of instructions to allow youth to get the most out this class.
Week 1: An Intro to the Way of the Young Hero
Everyone wants to "change the world." The question is: into what? You see, Adolf Hitler wanted to change the world, too, and he did a pretty good job. In this light, we have to think very critically about what we want to change the world into and why we are right, versus all the other people who say they want the same thing but mean something different.
Week 2: Understanding Slavery, Part 1
Week 3: Understanding Slavery, Part 2
Book Chapter 1: emphasis on vocabulary and term definitions
During these weeks on understanding slavery, we will be exploring the definition of slavery, including the essential philosophical questions surrounding it. Such as: Is slavery wrong? How and why? Are humans equal? How do you know? Upon figuring out these answers learners will be in position to truly love others as themselves!
Week 4: Historical Slavery, Part 1
Week 5: Historical Slavery, Part 2
Book Chapter 3: emphasis on the history of slavery and moral questions in politics
During these weeks, learners will explore the history of slavery, including within the United States. Connections from the first weeks come into play when we consider the Declaration of Independence and U.S. Constitution and what these documents have to say about human nature.
Week 6: Modern-Day Slavery, Part 1
Week 7: Modern-Day Slavery, Part 2
Week 8: Modern-Day Slavery, Part 3
Week 9: Modern-Day Slavery, Part 4
Book Chapters 4, 5, & 6; emphasis on developing empathy for others who are suffering
In these weeks, learners will begin to understand the unique nature and practices of modern-day slavery—specifically its method known as human trafficking. We will look at how trafficking works and, for example, how modern-day slaves are used.
Week 10: Connecting the Dots, Part 1
Week 11: Connecting the Dots, Part 2
Book Chapter 9; emphasis on slavery and economics
In these weeks, learners will explore how modern-day slavery finds its way into our daily living. Particularly, how it is intertwined into our economics. We will be asking questions such as: Since slaves are supplied, who are the ones demanding them, and why?
Week 12: Cha-Cha-Changes (thyself), Part 1
Week 13: Cha-Cha-Changes (thyself), Part 2
Week 14: Cha-Cha-Changes (thyself), Part 3
Book Chapters 12 & 13; emphasis on how "changing the world" begins with knowing and changing oneself
In these weeks, discussions will explore the difference between "who we are" as unique people and "what we are" as equal human beings. In action, this means discerning how we affirm the human dignity of ourselves and others, and how to know and develop our unique talents toward the abolishment of modern-day slavery.
Weeks 15: Global Influence
Book Chapter 16
In this week, learners will begin to see how changing your own self can naturally grow into changing the world. Plus, in our Case Study of Capitalism, they will begin to consider if—and how—freeing—the Free Market can be our greatest means to abolishing slavery once and for all.
Week 16: Young Heroes Recap!
In the final week we will review all the work they've completed throughout the course. This will include highlighting things that have surprised them most, what meant the most to them, things they do not want to forget, and things that came hardest to them. Overall, this is a week of reflection, where learners will also review their journaling and compile these entries into their own story.
Download a printable course outline here.
~~~~~~~~~
You can see my website here: IAmAYoungHero.com
You can also buy the book here.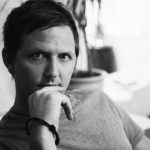 Immensely excited to teach a class on SchoolhouseTeachers.com, here is a bit about Office Chair Philosopher and Professional Mind Blower, Kurt Hoffman… 
July 1, 1979, the peculiar story of Kurt Hoffman and his audacious curiosities begins. Reflecting on his youth, Kurt admits he all but hated school. Almost failing high school (and nearly giving his mother an ulcer in the process) he finds it joyfully ironic how passionate he is about helping young people gain what he lacked: a global perspective, clarity about one's talents, and a love for true knowledge! Kurt was refreshed to discover there does not have to be tension between reason and faith and that there are substantive and meaningful answers to our greatest questions, if only we will seek to know truth above all else.
Earning his Bachelor's degree in Philosophy, Counseling, and Education in 2006, Kurt went on to earn his Masters of Social Work and Masters of Public Administration in 2009. His first of hopefully several books, Young Heroes: A Learner's Guide to Changing the World (Abolish Slavery Edition), is premised on the pursuit of truth above all else and dedicated to empowering youth out of cultures of complacency, consumerism, and poverty. Its goal is to transform them into thoughtful creators of a conscientious culture where human dignity is readily and deeply affirmed. His first book does this by empowering youth to abolish the global crisis of human trafficking and modern-day slavery. (You can read Cathy Duffy's review of his book here.)
Recently, Kurt moved from Arizona to Michigan with his beautiful wife and two children where they are building Young Heroes Academy—an internationally-minded school program designed to, "Enlighten, educate, and empower young people to break the cycles of poverty, transcend cultures of consumerism, and abolish modern-day slavery." It's full of dreamery and audacious ideas, just the way he likes it. (Oh yeah, making up new words is another thing he loves to do.)
Visit his website here: www.IAmAYoungHero.com.