Cathy Diez-Luckie
Summer 2014: June and July
Welcome to Dinosaurs on the Move!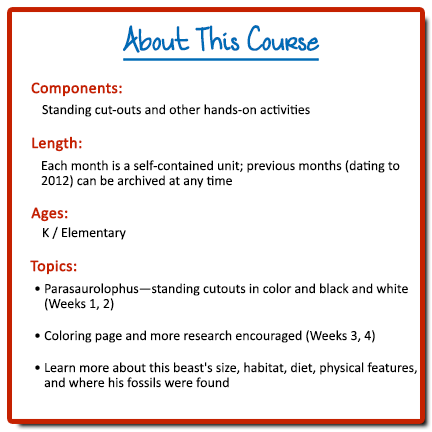 Thank you for joining SchoolhouseTeachers.com and Dinosaurs on the Move! To celebrate summer we are exploring the world of dinosaurs; we will return to Historic Heroes and Heroines in September following a month off in August. We hope you enjoyed last month's activities with the Brachiosaurus. This month's dinosaur is the Parasaurolophus.
If you are new to SchoolhouseTeachers.com, my name is Cathy Diez-Luckie from Figures In Motion. I am delighted to be sharing these activities with you during the summer months, whether you are continuing on through the summer, taking a vacation from the usual routine, or homeschooling at a slower pace.
Just like last month, we have two dinosaur activities again for you this month:
Standing Cutout: The first of your weekly lessons will include making a standing cutout of a Parasaurolophus in both a colored and a color-it-in version. Facts such as length, weight, habitat, diet, fossil locations, and features about the dinosaur are included.
Coloring Page: A coloring page of the Parasaurolophus is given in week three of the month, on July 14.
Fun Facts about the Parasaurolophus:
The Parasaurolophus was 30 feet (9 meters) in length and weighed approximately 5,000 pounds (2,300 kilograms). It was found in the Western North American rivers and floodplains. Fossils of the Parasaurolophus have been found in New Mexico; Utah; and Alberta, Canada.
For much more about the Parasaurolophus, including its body structure, diet, and how it communicated, and for standing cutouts and a color-it-in version of this beast, let's go inside to this month's lessons!
Remember, we'll take a one-month break for the summer's final month, in August, and then return with four weekly lessons as part of Historic Heroes and Heroines this fall!
Blessings to you and your family,
Cathy Diez-Luckie
Join Figures In Motion on Facebook or Twitter.
Learn more about Figures In Motion's Ancient, Medieval, and United States history supplements.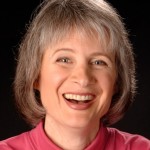 Cathy Diez-Luckie, publisher at Figures In Motion, is thankful for being able to educate her three children at home and loves to study history and literature along with them. With training in art and a graduate degree in chemical engineering, her diverse background includes researching polymeric materials, directing manufacturing at a medical device company, and illustrating children's books for a publisher in New York. Her award-winning children's book series (Famous Figures) integrates art and history and engages children with hands-on activities and movable action figures as they learn about the great leaders of the past.