Erin Dean
Welcome to the March Nature/Outdoors Lessons
Studies for both cold-and warm-weather climates: Squirrels and Snakes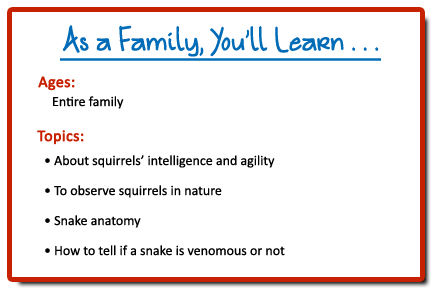 This month, we'll look at squirrels and snakes. You pick, depending on which creatures are out and about where you live.
I thought I knew quite a lot about squirrels until we started test-driving the lessons for March. For instance, how did I not know that chipmunks are actually a type of ground squirrel? I'm guessing that it's partly because I never paid much attention to them before, but I sure am now!
Snakes are a particular interest in our family, so I hope to share some of that fascination with you this month. For obvious reasons, if you live near dangerous snakes, this month will be observation from afar.
If you don't mind handling harmless snakes, though, like garter snakes, they are really interesting up close. My advice is to wear gloves because, although the bites don't hurt, a cranky garter snake can still draw blood. Gardening gloves are perfect.
See you in Lesson 1!
Erin Dean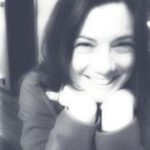 Erin (Eddie) Dean has been homeschooling her bright, high-energy, and loquacious children for almost nine years. The children are 5, 12, and 20 (graduate) and can almost always be found side by side, often with foam swords, video camera, or both. She's a lifelong hiker and roamer and married to Simon, a very supportive computer programmer/business analyst, kayak enthusiast, and husband who shares her love of all things outdoors—and is blind to messes. Erin's background includes accounting, developing children's programs for a large community center, and more years of wrangling other people's children than she likes to admit.
When she's not here, she can be found at her blog The Usual Mayhem. There, she shows the good, the bad, and the chaos of one homeschooling family, and shares her love of nature with anyone who's foolhardy enough to step through the door.