Erin Dean
Welcome to the Nature/Outdoors Lessons
Studies for both cold- and warm-weather climates: Bears and Ants
* * *
Course users: Erin Dean is on a summer break. Erin hopes to return with more lessons in the fall. — Ed.
Many of Erin's recent months have had dual tracks, with two lessons for that month. Approximately ten months of lessons (bears, snakes, wolves and coyotes, creeks, and much, much more) are loaded for your study on the outdoors. Those lessons are available for review at any time at the Weekly Lessons and Lesson Archive links below. — Ed.
* * *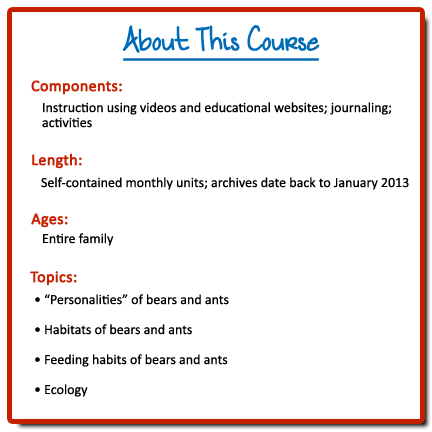 This month I thought we'd look at some of both the smallest and largest creatures around: bears and ants.
What makes both groups so interesting to me is that each type of bear or ant has a very distinct "personality." Some are reticent, and some are in-your-face aggressive!
We'll look at habitats, feeding habits, and try some ecology and science activities too.
Without further ado, let's get to it.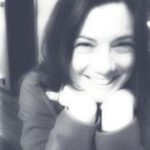 Erin (Eddie) Dean has been homeschooling her bright, high-energy, and loquacious children for almost nine years. The children are 5, 12, and 20 (graduate) and can almost always be found side by side, often with foam swords, video camera, or both. She's a lifelong hiker and roamer and married to Simon, a very supportive computer programmer/business analyst, kayak enthusiast, and husband who shares her love of all things outdoors—and is blind to messes. Erin's background includes accounting, developing children's programs for a large community center, and more years of wrangling other people's children than she likes to admit.
When she's not here, she can be found at her blog The Usual Mayhem. There, she shows the good, the bad, and the chaos of one homeschooling family, and shares her love of nature with anyone who's foolhardy enough to step through the door.