Marla Schultz
Welcome to the Literature Kits course at SchoolhouseTeachers.com!
The Silver Chair by C.S. Lewis
Literature Kit by Marla A. Schultz
Introduction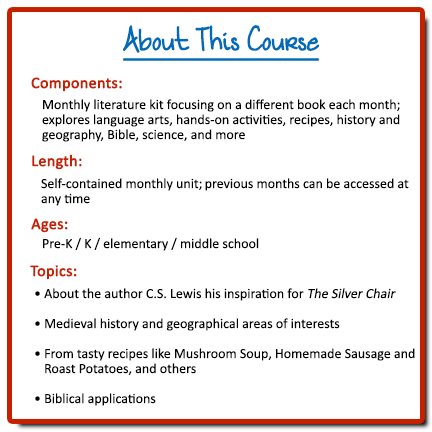 Because Adam Andrews will be covering all of the Narnia books in the next few months, I've decided to take the opportunity to create Literature Kits for each one. Unfortunately, I won't be covering them in order, but by July of 2015 I will have covered all of the books and you will be able to use them in conjunction with the Literature courses Adam has created. At the moment, you can find the Literature Kit for The Horse and His Boy in the 2013 archives and this month I will be covering The Silver Chair, the fourth book published, but the sixth chronologically.
My love of The Chronicles of Narnia began years ago when I was in the fourth grade. My Sunday School teacher, Mr. Martin, discovered my love of reading and urged me to try The Lion, the Witch, and the Wardrobe. At this point in my life my only exposure to fantasy was fairy tales so I wasn't sure what to expect, but it sounded intriguing.
While reading it—it felt a little daring to read a book with the word witch in it, despite the fact that I had checked it out of the church library—I fell in love with Aslan, as well as the Christian fantasy genre. Jealous of Lucy, I longed to be the one walking beside him and stroking his golden fur. Even though I was only nine or ten at the time, I realized almost immediately that Aslan was a representation of Jesus—the Lion of the Tribe of Judah.
I devoured the rest of the series and still remember the bittersweet sensation of coming to the final chapter in The Last Battle. As poignant as that moment was for me, it triggered in me a longing for heaven and an understanding about Lewis' motivation for writing the books. Because of the last book, I chose to read through the book of Revelations on my own. While reading chapter 22, I saw Lewis' inspiration for the trees in the new Narnia and understood more about heaven and what awaits us.
I also came across fascinating verses like, '"He who has an ear, let him hear what the Spirit says to the churches. To him who overcomes I will give some of the hidden manna to eat. And I will give him a white stone, and on the stone a new name written which no one knows except him who receives it." 'As a lover of names and their meanings I pondered the significance of the white stone in Revelations 2:17 and thrilled to the thought of receiving a new one that only Jesus and I knew. In short, The Chronicles of Narnia pointed me to the Word of God.
My hope is that you and your children will enjoy and be inspired by this series as much as I was.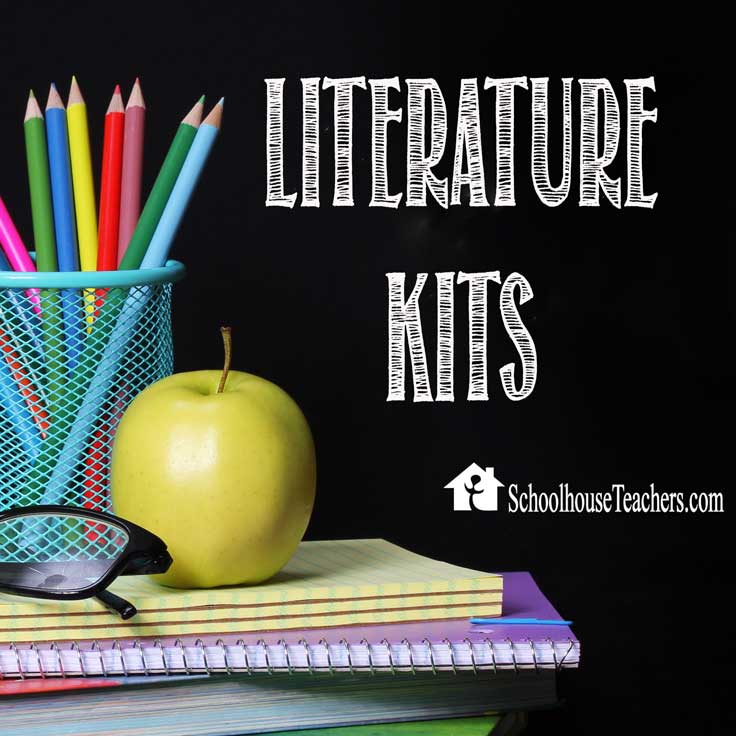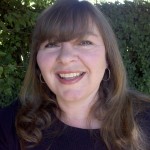 Marla Schultz is a homeschooling mother of six children, ages four to fourteen. An avid reader of great books of all genres, she is especially fond of children's literature. Marla graduated from Central Bible College in Springfield, MO with a B.A. in Bible and Communications Arts and an emphasis in Literature. Her mother's love of books and their family's missionary experiences—she lived in Austria and the Netherlands and traveled to several other countries as a teenager—has motivated her to learn more about different countries, cultures, and time periods through fiction, and to share that love of learning and discovery with her own children. Marla stays busy homeschooling, homemaking, and serving at her church in children's ministries. She also enjoys writing fiction and is in the final stages of editing a children's book she wrote and writing a Christian fantasy for middle grade and young adult readers.