Marla Schultz
Welcome to the Literature Kits course at SchoolhouseTeachers.com!
Where the Red Fern Grows by Wilson Rawls
Literature Kit by Marla A. Schultz
Introduction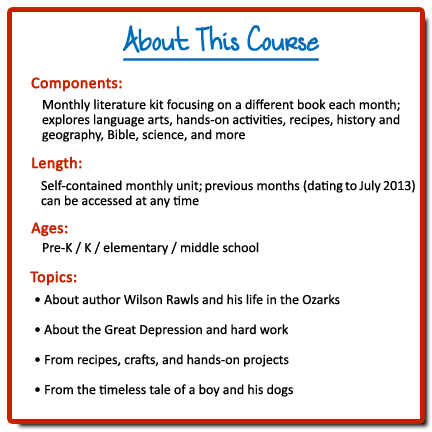 This month we will be reading Where the Red Fern Grows. First published in 1961 in The Saturday Evening Post as a serialization, this book has been a favorite for decades.
Wilson Rawls, the author, closely based this story on his childhood years in the Ozarks of Oklahoma during the Great Depression. It has been made into movies at least twice—once in the 1970s with Mr. Rawls himself providing the narration—and the second time in the late 1990s by Disney.
If you haven't read this story before, I think you will fall in love with this exciting tale about a single-minded, young boy and his two loving and faithful coonhounds. Be prepared and have a large supply of tissues on hand—your family will probably shed a few tears by the end of the book.
Warning: In Chapter 13, there is a violent accident that takes place and the use of a swear word, and in Chapter 19 the action is intense. I recommend that you look over the chapters before you begin reading it to your children. I personally think this book is best for children ages 10-and-up, but—of course—use your own parental discretion.
May Week One: May 5
May Week Two: May 12
May Week Three: May 19
May Week Four: May 26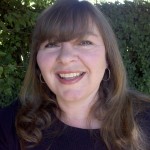 Marla Schultz is a homeschooling mother of six children, ages four to fourteen. An avid reader of great books of all genres, she is especially fond of children's literature. Marla graduated from Central Bible College in Springfield, MO with a B.A. in Bible and Communications Arts and an emphasis in Literature. Her mother's love of books and their family's missionary experiences—she lived in Austria and the Netherlands and traveled to several other countries as a teenager—has motivated her to learn more about different countries, cultures, and time periods through fiction, and to share that love of learning and discovery with her own children. Marla stays busy homeschooling, homemaking, and serving at her church in children's ministries. She also enjoys writing fiction and is in the final stages of editing a children's book she wrote and writing a Christian fantasy for middle grade and young adult readers.